04dec10:00 pmBliss presents: Rudolph's Ride @ Hangaren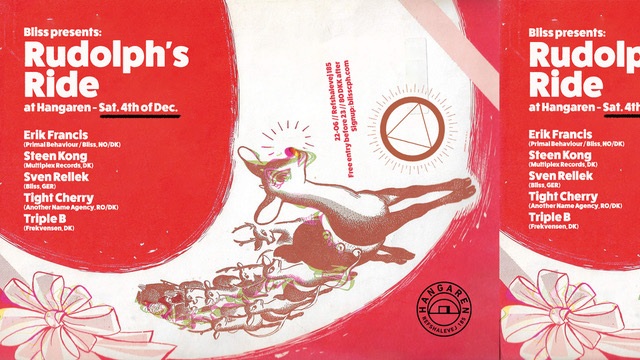 Event Details

Winter is coming and we at Bliss have a special treat in store before you all spend your holidays with family and friends!

We are stoked about throwing our first event at Hangaren on 4th of December. This magic venue and it's backyard has been a well kept secret in the post lockdown era for the dancing crowd of Copenhagen.

For the premier evening at Hangaren, we have dedicated the evening to Rudolph the reindeer. So welcome to our party 'Rudolph's Ride'. It will surely be a night ride kickstarting December with our handpicked mix of DJs playing all night long.

Look forward to a wonderful night together at Hangaren with amazing an Function One sound, sophisticated light setting and nicely put decorations.

By now, you should know the drill, but for newcomers:
Be nice, dare and meet people, our crowd will not disappoint. Enjoy the music and live in the moment. Oh and bring friends and make friends.

Erik Francis (Primal Behaviour / Bliss, NO/DK)
Steen Kong (Multiplex Records, DK)
Sven Rellek (Bliss, GER)
Tight Cherry (Another Name Agency, RO/DK)
Triple B (Frekvensen, DK)

22-06 // Refshalevej 185
Free entry before 23 // 80 DKK after

Capacity is 350 people, first come first served!

Please note that we are not using Facebook as our core channel of communication. Sign up for the Bliss list in order to be fully informed on future Bliss parties: 

https://blisscph.com/

Hangaren is a former hangar turned into a party space. It's located at a secluded green spot on Refshaleøen in central Copenhagen.
We are here to present the city's vibrant electronic music scene.
You will be treated with a heavy soundsystem by Funktion-One. There is a cosy courtyard with big sky scenery from where you can watch the sunset, the stars and the sunrise. The bar serves organic beers, mixed drinks and natural wines at fair prices.

Hangaren wants every guest to feel safe and free at our parties. This is a shared space and we want an open atmosphere and everyone to enjoy themselves.
We do not tolerate any harassment based on race, gender, sexual orientation, religion, disability, body size or political orientation.
If you feel like you're being harassed, are the victim of nonconsensual touching, or otherwise feel unsafe, please contact and notify a member of our staff or security. They will assist you.
We kindly ask for mutual respect!
Photos are allowed without use of flash.
But be aware of your surroundings and respect the other guests, staff and artists. We do not allow any unauthorized filming during club nights.
Location

Hangaren - Refshalevej 185
Organizer
Hangaren - Refshalevej 185