08dec11:36 amCassy / Kasper Marott / Fruit / Sexy Lazer / Kim Las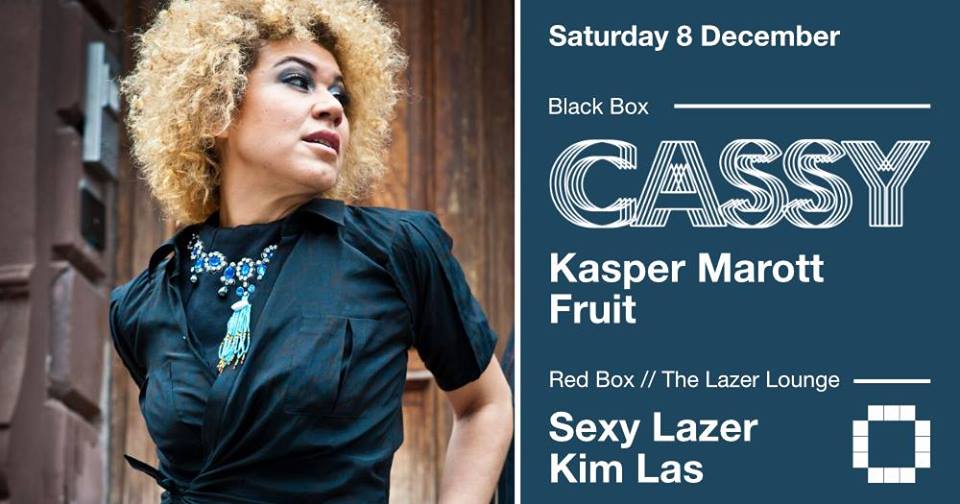 Event Details

Black Box:
– Cassy
– Kasper Marott
– Fruit
Red Box:
– Sexy Lazer
– KIM LAS

NB: Early bird tickets on sale at only €8 until 4 November! After that, the price is €12.

We are super excited to bring Cassy back to Copenhagen. Her feminine power and sensitive musical flow delivers diverse techno with soul, warmth, elegance and a touch of mystery.

She has always been surrounded by music. Born in England and raised in Austria, with her mother from Austria and father from Barbados, Cassy was exposed to many cultures growing up. In the early 90s she started buying records from the local record shop in Vienna, a bit of drum n bass, hip hop, house, techno, a mix of things. Moving between London, Vienna and finally Berlin in 2003, she slowly began to build her career as a DJ. Luciano offered her a gig at Panorama Bar in 2004 and they asked her to come back as a resident. Her release output increased, with her putting out her own music on labels including Perlon, Ostgut Ton, Uzuri, Beatstreet, Playhouse and her own Cassy imprint, as well as mixing the heralded fabric 71. She left Berlin in 2010 and moved to Paris and then Amsterdam. She's also been resident at Cocoon Ibiza and Circo Loco at DC10. An honest, true and powerful feminine force, Cassy is and artist who knows and speaks her mind and stands strong as a unique inspiration in dance music.

Originally from Iceland, but based in Denmark, Fruit has been making waves in the Copenhagen club scene with his eloquent DJ and live-sets. He plays the opening set fresh from the release of his Island Tape release on Øen Rec.

Hot on the heels of his critically acclaimed Keflavik EP on Modeselektor's Seilscheibenpfeiler, Danish producer and DJ Kasper Marott plays the closing set of smooth and thumping sounds in Black Box.

The Lazer Lounge bring the vibes in Red Box with Sisters & Brothers label co-owner Sexy Lazer. The Icelandic whirlwind hosts the Red Box with his good friend Kim Las. A DJ and musician with an ear for both the extremely obscure and the notable electronic pop-twist, Kim Las has been around for the past 15 years as a go-to rave DJ and partyhead extravaganza.

Get in early for the Golden Hour between 11pm and midnight with unlimited free Tuborg.
Location

Culture Box

Kronprinsessegade 54, 1306 Copenhagen
Organizer