11jan(jan 11)11:00 pm13(jan 13)8:00 amCulture Box 14th Birthday Weekend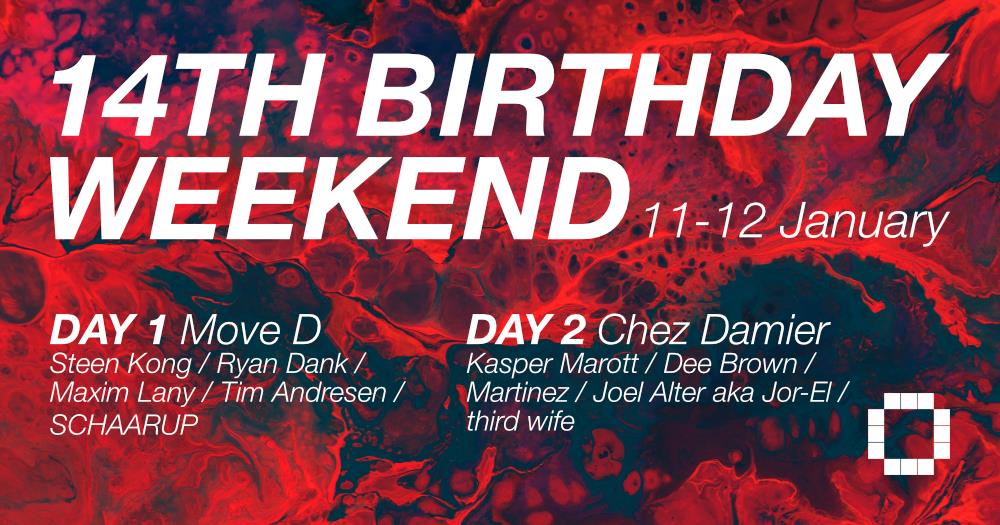 Event Details

—– FRIDAY 11 JANUARY 11PM-08AM —–

Black Box:
– Move D
– Steen Kong
– Ryan Dank
Red Box:
– Maxim Lany
– Tim Andresen
– SCHAARUP

—– SATURDAY 12 JANUARY 11PM-8AM —–

Black Box:
– Chez Damier
– Kasper Marott
– Dee Brown
Red Box:
– Martinez
– Joel Alter aka Jor-El
– third wife

TICKET INFO:
For the birthday weekend, we're selling day tickets at €14 per day and weekend tickets valid on both days at €22 in presale.

SPECIAL OFFER until Christmas: Get your weekend ticket for €18!

It is hard to believe Culture Box will be 14 already. This is the age when we make new friends, discover new possibilities, get a clearer picture of our future, and find those things we're truly passionate about. Our 14th birthday party is somewhat unique. It is a transitional party from early teenage years to late teenage years. Thus, our weekend should reflect our life at this important moment.

We bring you the best from the past, the present and the future. A carefully selected mix of international and domestic legends, heroes and coming stars to ensure we all have a great 14th birthday celebration.

We only turn 14 once. So let's start the biggest birthday party ever.
Time

11 (Friday) 11:00 pm - 13 (Sunday) 8:00 am
Location

Culture Box

Kronprinsessegade 54, 1306 Copenhagen
Organizer