02sep8:00 pmCulture Box Reopening Weekend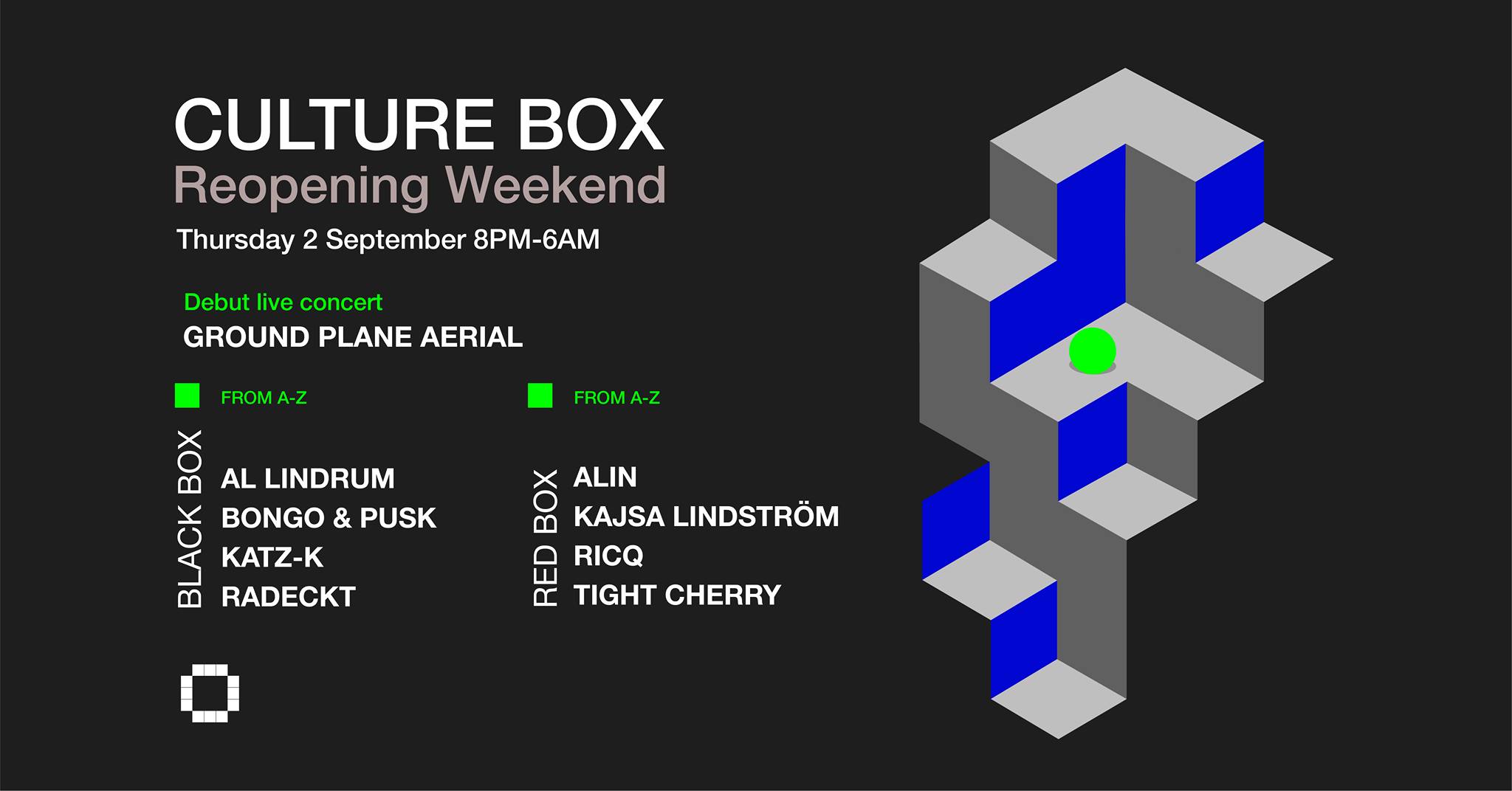 Event Details

The wait has come to an end! We are beyond excited to welcome you back to Culture Box for four days of extraordinary music, dancing, hedonism and the biggest celebration of nightlife community in our lives while kicking off a new era in clubbing history.

Black Box
8pm-10pm
Ground Plane Aerial (DEBUT LIVE CONCERT)

10pm (CLUBNIGHT)
Al Lindrum
Bongo & Pusk
Radeckt
Katz-K
Visuals by Hackstage

Red Box
Alin
Kajsa Lindström
Ricq
Tight Cherry

We proudly bring you the multi-talented Ground Plante Aerial's much anticipated debut live concert to open Black Box at 8pm. Ground Plane Aerial is the latest incarnation of the mysterious man behind the highly regarded Paxton Fettel project. With countless releases under his belt on much respected labels – including Delusions Of Grandeur, Kolour LTD, Apersonal, and regular home Greta Cottage Workshop – the new nom de plume is an exciting new vessel from where he intends to advance his odyssey into house-inspired jazz-funk futurism.

Al Lindrum mixes all things electronic music and sets the pace after the concert. The prime hours of the night are first taken by Johnni, half of the Bongo & Pusk duo known from Get Physical and just signed to Sum Over Histories. The latter part of the night sees Radeckt playing his fusion of industrial sound and warm South American drum rhythms. Katz-K gets us all smiling and closes Black Box with her melodic soundscape. Visuals by Hackstage. Red Box gets a strong presence from the KUNE team fresh from their festival activities. It's minimal and vinyls are spun by Tight Cherry, Kajsa Lindström and Alin and Ricq b2b until the late hours.

Attitude Code
Culture Box operate an attitude code. We have a zero tolerance policy to any form of harassment to our guests and staff. That includes leering, rude comments, touching and any behaviour that makes you feel uncomfortable. If someone is making you feel uncomfortable then please notify a member of our staff or the security, they are all trained to help you. We kindly ask for mutual respect. Without respect, love is lost.

Please note
Corona passport needed (you have been vaccinated against, have previously been infected with or have tested negative for COVID-19 within the past 72 hours).
Location

Culture Box

Kronprinsessegade 54, 1306 Copenhagen
Organizer