04feb11:00 pmHangaren: Skatebård (NO), Carlo & Selma, David Garset, Cone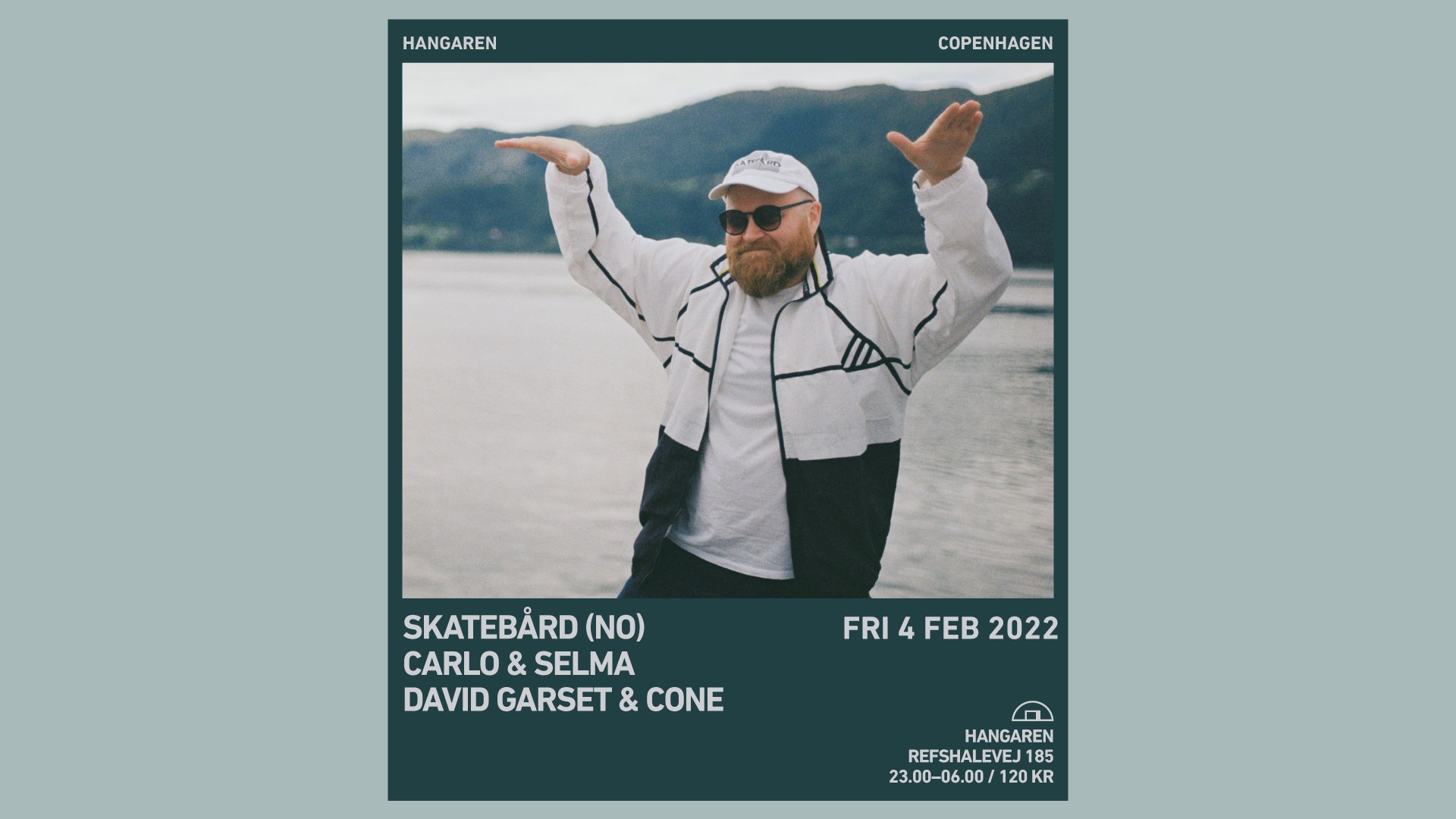 Event Details

The Norwegian producer Skatebård is all things electronic. Connoisseurs know that his catalogue oscillates between emotional techno, neo-italo, electro from an alternative future and a scando-cosmic reinterpretation of pure detroitian house. Skatebård releases on labels like Digitalo Enterprises, Sex Tags Mania, Bordello A Parigi and many more.

Door sale: 120 DKK
Buy tickets: Coming soon
Wardrobe fee: 20 DKK
Minimum age 18+
Promoter: Hangaren
Address: Refshalevej 185, 1432 Copenhagen K

Hangaren is a former hangar turned into a party space. It's located at a secluded green spot on Refshaleøen in central Copenhagen.
We are here to present the city's vibrant electronic music scene.
You will be treated with a heavy soundsystem by Funktion-One. There is a cosy courtyard with big sky scenery from where you can watch the sunset, the stars and the sunrise. The bar serves organic beers, mixed drinks and natural wines at fair prices.

Hangaren wants every guest to feel safe and free at our parties.
This is a shared space and there should be an open atmosphere where everyone can enjoy themselves, whoever they are or wherever they come from. We do not want any harassment based on race, gender, sexual orientation, religion, disability, body size, political orientation, social background or age. If you feel you are being harassed, a victim of nonconsensual touching, or otherwise made to feel unsafe by any form of aggressive or inappropriate attitude, contact our staff or security: they will assist you.
Photos are allowed without use of flash. But be aware of your surroundings and respectful towards the other guests, our staff and the artists. It's only a party if we all feel free!
Location

Hangaren - Refshalevej 185
Organizer
Hangaren - Refshalevej 185