05may10:00 pmJohn Digweed / Tim Andresen / Skarn / Mystic Tales Showcase: Söriös / Naicet / Tadoh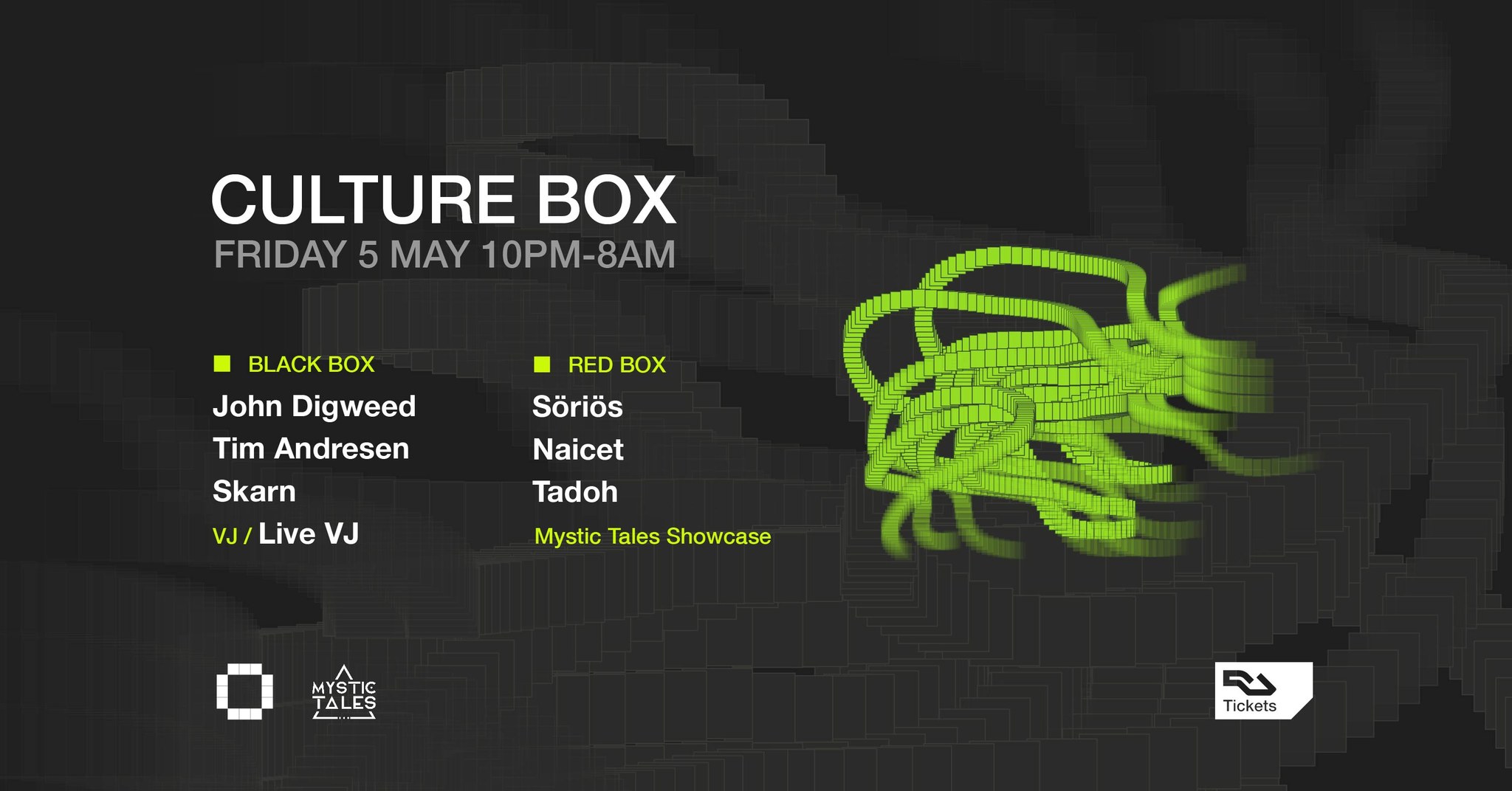 Event Details

John Digweed is back to play at Culture Box.
 120 / 150 DKK
Buy tickets: 
https://ra.co/events/1677207
First drink/beer for free the first open hour.
Black Box lineup:
John Digweed / Tim Andresen / Skarn
Red Box lineup: Mystic Tales Showcase
Söriös / Naicet / Tadoh
John Digweed has cemented his name in the pages of dance music history as one of the biggest DJs of all time. His list of achievements is groundbreaking to say the least. In fact, he has reached the very top of his profession, being voted #1 in a voter's poll by DJ magazine. His sets are filled with moodiness and musical mystery but held down with a punchy distinctiveness and earthly rhythm. Get yourself ready for one of the most respected DJs in the world.
Tim Andresen plays the opening set in Black Box. Tim is an award winning DJ with shows in 40 countries across Europe, Asia and South America under his belt. He is the label boss at What Happens and Savoir Faire Musique and has produced music for various high profile labels. Skarn takes us into Saturday morning with the closing set. As a member of Peccāvī and one of the finest DJs in the capital for the last decade, he is a cornerstone of our local scene.
Mystic Tales Showcase is back in Red Box hosted by the one and only Tadoh who asked Söriös and Naicet to join for a journey of dark, trippy, hypnotic and experimental sounds. Söriös and Naicet are both known from the creative underground events and rave scene of Berlin.
 Go explore!
https://soundcloud.com/john-digweed
https://soundcloud.com/tim-andresen
https://soundcloud.com/skarncph
https://soundcloud.com/soerioesqrios
https://soundcloud.com/naicet
https://soundcloud.com/tadoh
 Attitude Code
Culture Box operate an attitude code for a safer space. We kindly ask you to respect your fellow clubbers and our staff to create the best atmosphere possible. We have a zero tolerance policy to any form of harassment. That includes leering, rude comments, touching and any unwanted attention or behaviour that makes anyone feel uncomfortable. No homophobia, transphobia, sexism or racism accepted. If someone is making you feel uncomfortable then please notify a member of our staff or the security, they are all trained to help you. Take care of yourself and each other. Without respect, love is lost.
Location

Culture Box

Kronprinsessegade 54, 1306 Copenhagen
Organizer