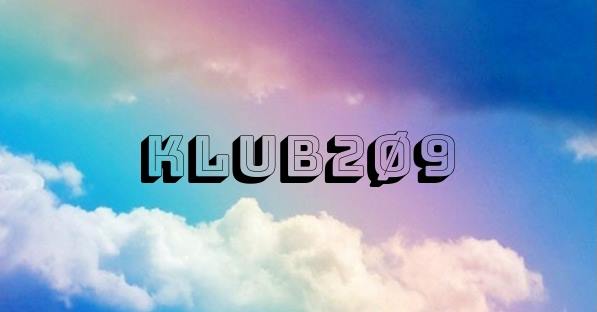 Event Details

!! English description below

Efter en vild fest sidst er vi klar til part 2 med et nyt lækkert line-up !

Træk stikket ud med KLUB2Ø9 til en finurlig aften i et hippie-univers hvor vi garanterer at dine smukke lemmer ikke får et øjebliks ro fra vi åbner dørene til den sidste gæst kravler hjem blandt rævespor og betonklodser fra en glemt tid på B&W Værftet.
Vi har billig bar, intimt dansegulv, forskellige lounges – både inde og udenfor, og du kan blive pyntet med glimmer af vores Glitter Sweetheart Leslie aka HeyLelly.
Nattens DJ's og selectors disker op for moderne disco, funky house og dirty tech til den lyse morgen.

KLUB2Ø9 er lavet i samarbejde med Foreningen Reffen209's medlemmer og beboere på Refshaleøen. Vi har skabt rammerne, i skal fylde dem ud – altid første fredag hver anden måned!

OBS! GÆSTELISTE!
For at få adgang til festen skal du trykke deltager på denne begivenhed. Listen lukker kl 18 på dagen.

LINE-UP:

❉ Esther Urioste
https://soundcloud.com/esther-urioste

❉ Valdemar Anthony
https://www.facebook.com/valdemar91/

❉ DJAKES

MORE TBA!

ENTRÉ: 50KR – Husk kontanter!

Dørene åbner allerede kl 20 med mulige indslag fra Reffen209's naboer i øvelokalerne og lokale DJ's og Happy Hour indtil kl 22.

Dette er en fest hvor vi inkluderer og ikke ekskluderer.
Vi glæder os til at danse med jer

Kærlighed fra Reffen209 & KLUB2Ø9 ♥

ENGLISH DESCRIPTION

Pull the plug out with KLUB2Ø9 for a whimsical evening in a hippie universe where we guarantee that your beautiful limbs won't get a moment of still standing from the doors open until the last guest crawls home amongst fox tracks and concrete blocks from a forgotten time at the B&W shipyard.
We got a cheap bar, intimate dance floor, different lounges – both inside and outside and you can even be decorated with glitter of our Glitter Sweetheart Leslie.
The night's DJs and selectors are firing up modern disco, funky house and dirty tech until the sun rises!

NOTE! Guest List!
To access the party, hit attend at this event. No list, no entrance! The list closes at 6pm on the day.

Entrance: 50KR – Remember cash!

This is a party where we include and do not exclude.
We're looking forward to dancing with you all night!