04oct11:00 pmKollektiv Turmstrasse, Marius Lehnert, Tim Andresen, WaxWarriors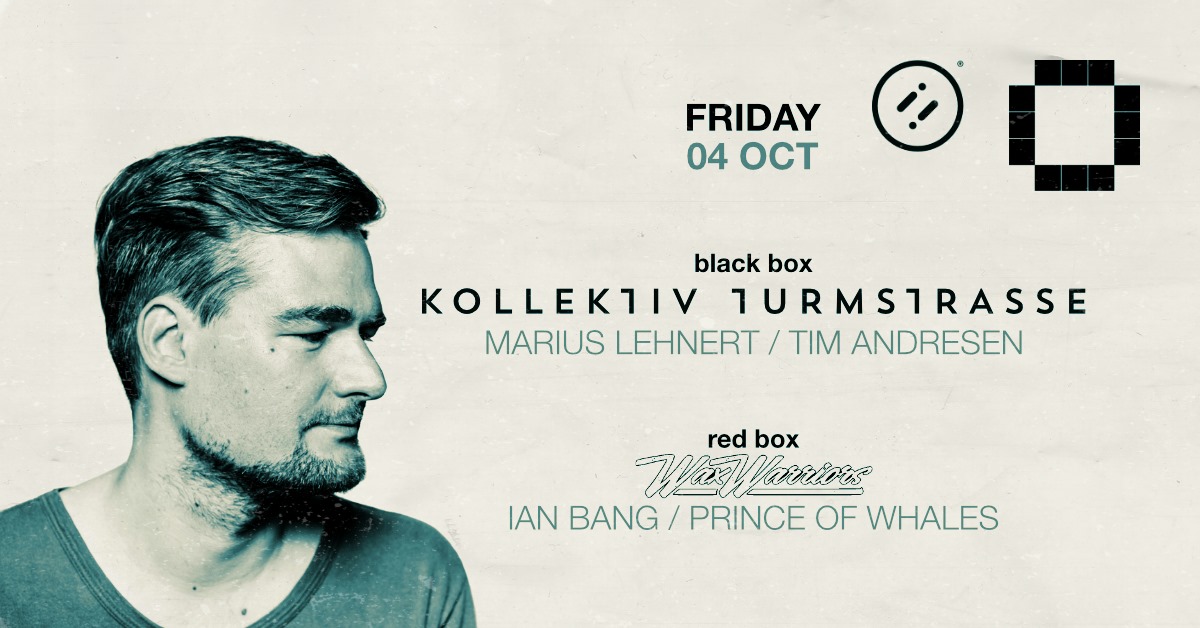 Event Details

BLACK BOX
– KOLLEKTIV TURMSTRASSE
– Marius Lehnert
– Tim Andresen

RED BOX: WaxWarriors
– DJ Ian Bang
– Prince of Whales

DOOR: 150 DKK

—————————————

Tickets for this event will come in 3 releases: 1st release is €14, 2nd release is €17, and 3rd release is €20.

Get them here: https://www.residentadvisor.net/events/1302407

NB: Please be aware that this event is a club night with two stages and a host of different artists. We cannot guarantee entry to both stages at all times.

—————————————

🖤 BLACK BOX 🖤

Dearly beloved Kollektiv Turmstrasse are one of those rare acts whose music caters for both body and soul. Their cinematic take on 4/4 electronica has won praise from all quarters via releases on Diynamic, Connaisseur and their own Musik Gewinnt Freunde imprint. Debut album Rebellion der Träumer ('The Dreamer's Rebellion') demonstrated a prowess beyond the realms of the dancefloor, laden with frosty electronic melody, downtempo rhythm and classy vocals. A busy remix schedule has seen them grace the likes of Cocoon, Get Physical, Soma, Poker Flat, Defected, Systematic and Traum, reworking multifarious acts including Trentemøller, Hot Chip and Terry Lee Brown Jnr. along the way.

Having just released the EP "Ribbon Reef" on Musik Gewinnt Freunde, Kollektiv Turmstrasse are at their absolute A game, and it is with much anticipation we welcome back the German act, whose previous performances at Culture Box have been known to inspire outrageous fits of dancing and crazy bursts of joy.

Supporting Kollektiv Turmstrasse, fellow German and head of the Discotronic collective, Marius Lehnert will be bringing his signature melodic-groovy sounds to Black Box alongside Culture Box resident, producer, and label boss of What Happens, Tim Andresen.

❤️ RED BOX ❤️

Red Box is hosted by the ubiquitous radio show WaxWarriors. Ian Bang, music connoisseur, long time DJ, and part of CPH Deep and the infamous IG60 parties will show off his many talents beside Copenhagen based Austrian Prince of Whales whose DJ sets carry influences from disco, funk, soul, afro as well as harder and faster techno sounds. Instead of sharing the mic as they do on their radio show, this night they will be sharing the decks.

—————————————

🏆 THE GOLDEN HOUR 🏆

We expect this to be an extra busy night, so please come early to secure your spot. And while you are here, you can enjoy ice cold free Tuborg Gold from the bars between 10pm and 11pm.

—————————————

💜 ATTITUDE CODE 💜

Culture Box operate an attitude code. We have a zero tolerance policy to any form of harassment to our guests and staff. That includes leering, rude comments, touching and any behaviour that makes you feel uncomfortable. If someone is making you feel uncomfortable then please notify a member of our staff or the security, they are all trained to help you. We kindly ask for mutual respect. Without respect, love is lost.
Location

Culture Box

Kronprinsessegade 54, 1306 Copenhagen
Organizer