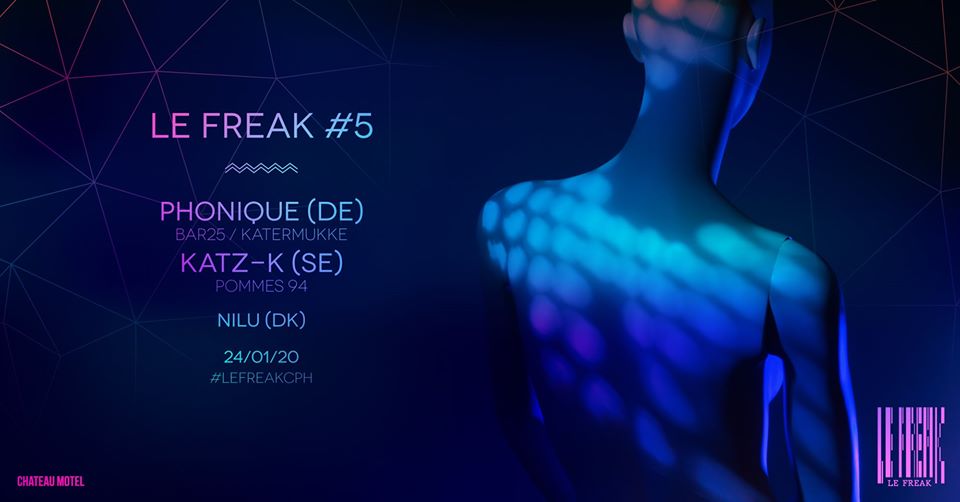 Event Details

We don't know about you, but after the Christmas feasts and all the lazy days spent in our PJs, we're in desperate need for a dance party!

Luckily we've got the cure for the January blues! Le Freak #5 is here with another international line up.

This time we've teamed up with the Berlin based award winning producer and label owner Phonique. Having organized underground parties in Berlin during the 90s, house legend Phonique knows the components of a good party.
Next up is Copenhagen based Swede Katz-K, part of the Pommes 94 collective. Katz-K will be bringing plenty of groovy deep tunes and we can't wait to welcome her to Le Freak #5.
As always NILU will take you through the last hours of this January rave.
This time we've invited Argentinean Gasti to help warm you up for another steamy night.

▬▬▬▬▬▬▬▬▬▬▬▬▬▬▬▬▬▬▬▬▬▬▬▬▬▬▬▬▬▬
Pre party from 21.30-23, free entry & drinks
▬▬▬▬▬▬▬▬▬▬▬▬▬▬▬▬▬▬▬▬▬▬▬▬▬▬▬▬▬▬

Line up

✘ Phonique – Bar25 / Katermukke

✘ Katz-K – Pommes 94

✘ NILU DK – Bar25 / Golden Gate Records

Pre Party:

✘ Gasti – Argentina

▬▬▬▬▬▬▬▬▬▬▬▬▬▬▬▬▬▬▬▬▬▬▬▬▬▬▬▬▬▬

Hosts: NILU & Karoline Lund

Logo & Grafik: Adjust – Graphic Design & Media

Le Freak is the newest addition to the electronic club scene in Copenhagen, taking place in the legendary location of Chateau Motel – a location that has housed several successful night clubs throughout the time.
Le Freak aspires to spread the word of the electronic scene. To democratize a diverse genre and to create a space where you can let loose and get freaky. All this in a space that has housed thousands of parties throughout the years.
Location

Chateau Motel

Knabrostræde 3
Organizer