20mar10:00 amSALON 185 Meets URSL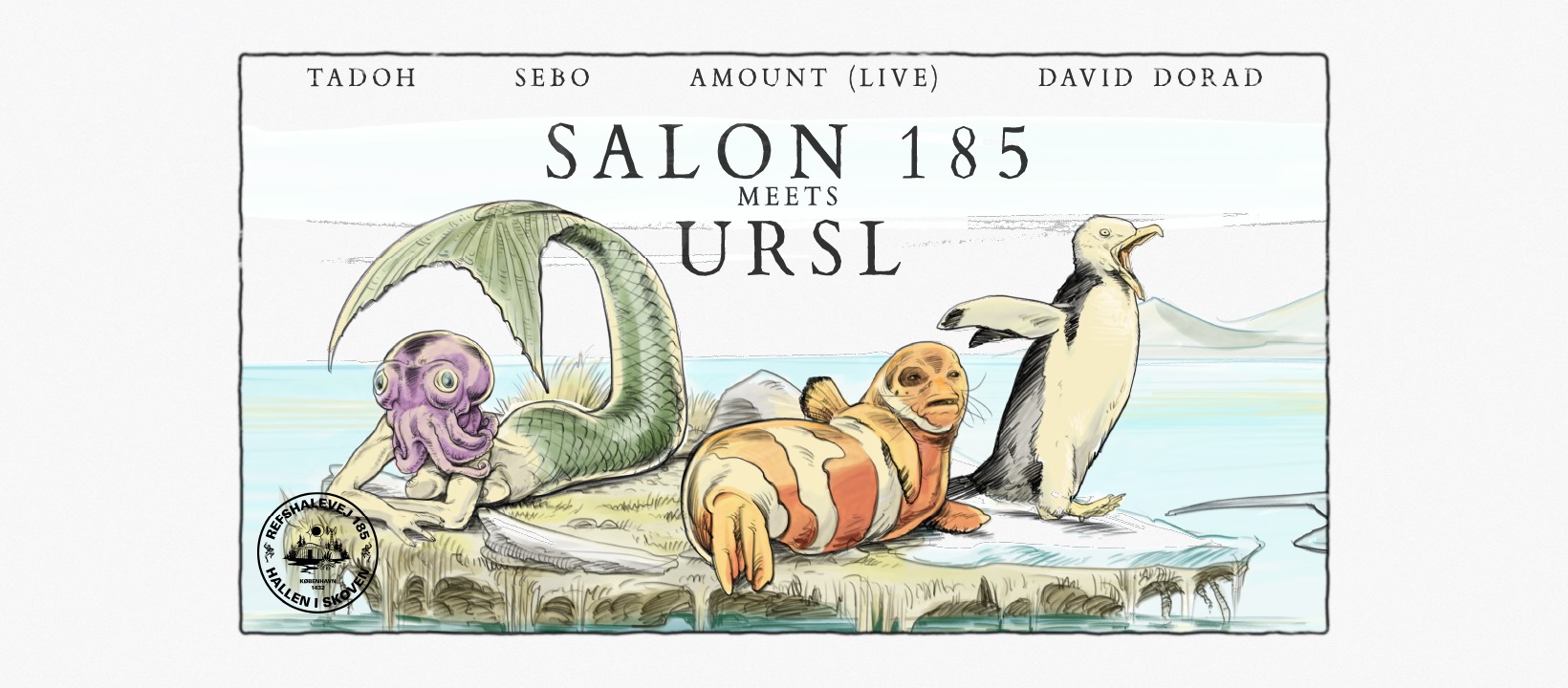 Event Details

>> Join us when URSL visits SALON 185 friday 20. th of March. <<

Once again Hallen i skoven awakes with a series of deep/tech/house inspired nights, this time under the moniker of SALON 185.

******************** Lineup ********************

// TADOH //
A versatile Copenhagen based DJ whose foundation lies solidly between slow-tech and organic deep house. While the tempo may vary, the listener's experience is persistent: tadoh's sets always bear a characteristic groovy drive that keeps the dancefloor moving with their hands pumping low – while melodic, uplifting and surprising elements bring a taste of faraway flavors and keep the energy bubbling high.

// SEBO //
Floating on the strobe lights, smoke machines and sunrises you can feel the Jujujuju. Part time hippies say it feels the way love tastes; others just keep dancing. At German festivals such as Fusion, Garbicz and Sonne Mond & Sterne, people explode with feelings of Woooohohoho.

https://soundcloud.com/sebo_stelze

// AMOUNT (Live) //
Nayan Soukie aka Amount is the founder of URSL Records in Berlin, he is part of the DJ Duo Soukie & Windish but also known as AMOUNT, his solo live project.

https://soundcloud.com/amounttechno

// DAVID DORAD //
It's as if his magic hand commands the art of splitting synapses and rejoining them as desired. That would put him ahead of most brain surgeons!

https://soundcloud.com/david-dorad

********************* General info *************************

>> Location: Refshalevej 185 – Hallen i skoven
– GPS: 55.691450, 12.616987
– If you go by bike its a 10 min drive from Nyhavn or
Christianshavn.
– Venue is 2 min walk from nearest bus stop and docking
station.
– Nearest bus stop: Refshaleøen (bus 9A goes all night)
– Nearest Bycyklen docking station: Refshalevej
– Nearest Metro station: Christinhavn (trains go all night)
>> Doors open: at 22.00 – Limited capacity – come early.
>> No Cash
>> Dresscode: None.
>> Bring you friends and leave the bad behavior at home

*************************************************************

SALON 185 is produced by the NusNus people behind DISTORITON, KARRUSEL, Action hygge & Hallen i skoven.
Location

Hallen I Skoven

Refshalevej 185