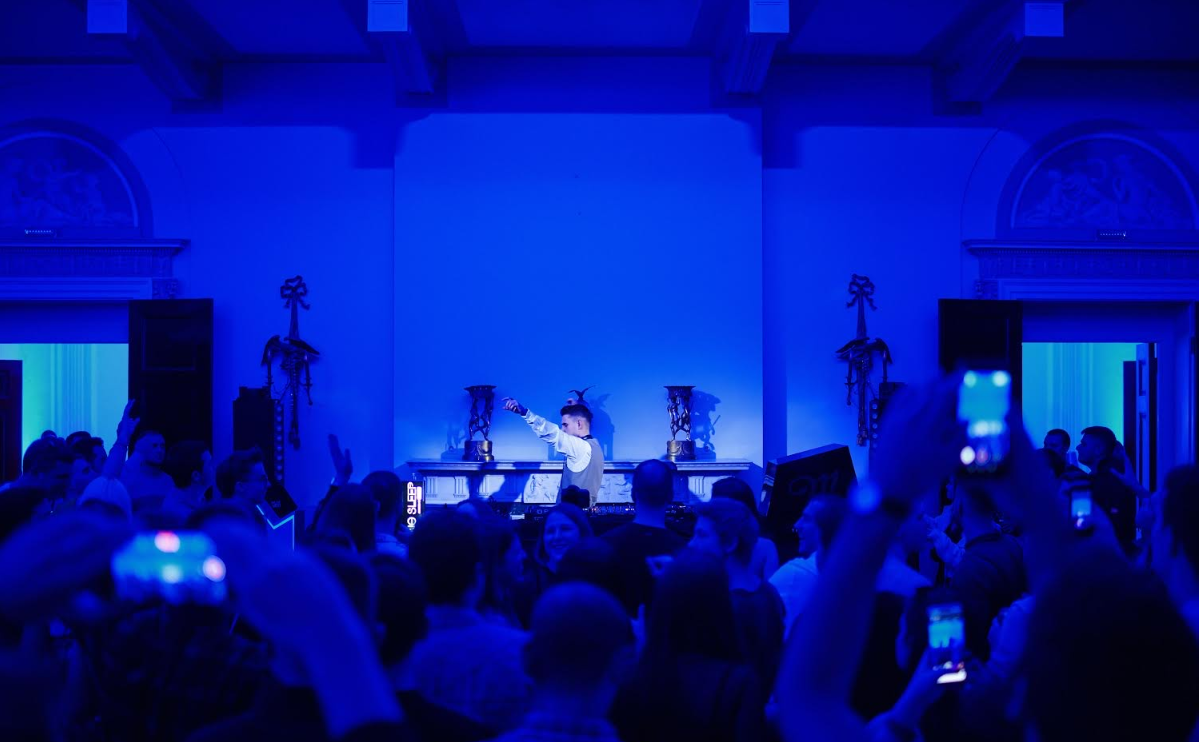 Luka Čikić – a natural talent
Despite the common assumption, to become a great electronic music DJ, to develop the ear and the touch, does not require growing up with the music. Of course, it requires a great amount of talent – and according to Luka Čikić, also knowing the right people.
Luka is a 24 year old Bosnian DJ and producer, and he is a proof of such talent. He has only DJed three years and produced a bit over one, but has already been able to make a living of it. In this short time he has played more gigs than he can remember, played in several big festivals, and been booked internationally – although Corona took its toll. Moreover, he has been able to do all that without compromising.
So how did it all start?
Luka grew up with pop and rock music. Prince, Guns N' Roses and ACDC. He was also a hip-hop dancer at national level in Bosnia. He got acquainted with electronic music only much later, although music and rhythm have always been part of his life.
"I was always a dancer. So I always had rhythm inside me. I remember the first electronic track that I heard was Fedde Le Grand's Let Me Think About It. When I heard the track, I thought Fedde Le Grand was a singer. I didn't know what a DJ was or that DJs can produce music. I was always into bands and that kind of stuff.", says Luka.
Two of Luka's best friends from his hometown started DJing around the age of 12-13. Luka thought that he could be good at it, but as the scene in his hometown was small, and the two friends were already electronic music DJs, he did not think it would make sense to start by himself. For a couple of years he settled with collecting a lot of music, which he did not get to play. The spark was still there, and at some point he realized that he had the drive.
Luka had his first gig when his friend was opening a new coffee shop named Kadar. The venue was already prepared for parties with a DJ booth, and it fit in 100-150 people. In the same place Luka started organising his own parties later on. The first gig already gave hints of his talent. It is one thing to play with the latest DJ equipment with all the visual aids, and completely another to jump behind outdated decks off the cuff. Without a good ear, it would be impossible to get away with it.
"The first gig in my life, it was literally my second time with these players. 800MK. The old ones using CDs. I think in 2018 somebody from Banjaluka [second largest city in Bosnia] bought the first pair of 2000 Nexus players. So we didn't have those players anywhere in the city. Literally, you can't even rent it. So we were playing the old ones with CDs.", tells Luka and continues:
"After that gig, I realized that I actually did well – I even got applauded. I addored the feeling of making people move and dance. I decided that I'm going to try a couple of more gigs to see if this is for me.", says Luka.
So he did it again. In that same coffee shop. Five or six more gigs. Because he had a lot of friends in his hometown, there was always a good vibe even though he was a newcomer. He quickly realised that it was right up his alley. The idea of making Djing a living slowly started forming. He knew that the chances of making it weren't good, but some bad impression gave him reassurance in trying.
"After hearing a lot of bad DJs, I was like, I can do this better. No tea, no shade, but, I know I can do better.", reveals Luka.
Overcoming the odds
According to Luka, no matter how talented, there are two things a DJ in Bosnia needs in order to become successful: Money and connections.
Money does not buy good connections, but it buys a ticket to the places where the connections are made. The heart of the electronic music scene in Balkan is Belgrade, and living there is expensive. Travelling is required for making connections, which is also expensive.
Furthermore, investment is needed for basic things like a decent laptop and a headset. Considering that the average monthly salary in Bosnia is 250 euros, the financial investment required for starting a professional DJ career is significantly high, and not within the reach of most of the people.
Luka knew that if he wanted to make it he needed to move from his hometown. Belgrade was the best option. His friends and colleagues also advised him to go international parties as soon as possible. Amsterdam, Berlin, London. Where ever club culture was thriving.
"I realized that to do any of this I need to earn money, like big money. And that's when I went to America. I was lucky enough to get a student exchange program, called work and travel. lived there for half of the year in Maine, Camden. There was no time parties. It was all work and studies. It was a tough time, but the payoff came later when I went to the Apple Store, pocket full of cash, stating: 'Give me the best MacBook you have.' It felt SO good.", laughs Luka
Having solved the first challenge in starting a professional career, the money, the second challenge needed to be tackled. Connections. Luka's best friend Coeus, one of the biggest upcoming artists on Afterlife Records, has helped him a lot with networking.
"So I wanted to invest in connecting with people, because I think that even though you can be a great producer, if you don't know people, it's hard to get your music to the right people. Through Coeus I've met a lot of DJs, promoters and all kinds of people in the industry. I'm always suggesting young DJs to go to the parties, it doesn't matter if you're playing or not. Go there and you might just meet a new friend who can help you take the next step. You seriously never know who you're going to meet.", says Luka.
Making a living as a DJ
Then again, once gotten started, it isn't too hard making a living off DJing in Bosnia, since one gig can pay more than the media monthly salary. Compared to Denmark, required investment in relation to average salary is much higher, but so is payment for gigs in relation to average salary. From a financial perspective the dream of most DJs and producers is both extremely hard and extremely easy to achieve. Money rarely is the main incentive for a DJ, but in Bosnia it plays an inevitable role which needs to be considered.
"I wanted it. Because, let's be honest, Being a DJ job is the best job in the world. I like to party. And I realized, okay, there are people making 50,000 euros for only one gig, they go there with their private plane, and have fun. When you're playing music, that's for you, you're playing for yourself. I mean, you are playing for the people, but also you're playing for yourself. Actually, that's not even a job when you like it. I mean, I can't say it's a job when you love something, you want to do it.", says Luka and continues:
"And that's the reason why I can't figure out DJs who don't dance to their music. You know that kind of DJs that just stands there. Dude, you're picking up the music, move a little bit, man! On stage I like Maceo Plex, he's the guy who's dancing and everything, you can see he's having a lot of fun there. And that's what I like to see. You send that kind of energy to people." says Luka
Being a professional DJ is also a full-time job, Luka says, which means that studying or having a day job is not possible at the same time. Luka dropped out of college when he made the decision to pursue a career in electronic music, which did not make his mother happy, but that was the only way.
"People think that's only playing music, but it's not. You have to be your own manager, so SoMe, PR, everything. You need to know marketing, you need to know everything to make it in this industry.", says Luka.
Luka style
Luka is a DJ. There was no hesitation when he was asked if he likes DJing or producing better. DJing gives him a rush. The energy received from the audience when you give a piece of you to them. His music style has changed since he started years, but he has strong arguments why he plays what he plays, and is very aware of how his music selection affects the crowd.He started mostly with techno, influenced by the two DJ friends as he naturally listened to them constantly.
"I was a dancer before, so the rhythm is always inside of me. That's why my tracks are always based more on rhythmic rather than melodic. When I started I played techno, but it was a fast switch. After a year I realized that's not for me. I like classy venues. Because in Bosnia, and Serbia where I also arrange parties, it's really hard to get investors in something related to techno, because techno is related to drugs."
What do you play now then?
"When I play for people who don't listen to electronic music, it's going to be pleasant for their ears. So there's going to be vocals. There can be everything, a mix of discoish tracks, also opera house tracks, like mixing everything together to get what I call that classy moment or classy touch. I like playing 113 BPM. I can play that all night long. But people don't understand that kind of music. 113 BPM is really slow music, but with an amazing groove. For me, the tracks are more sexy and more groovy when they are slow.", tells Luka.
Producing based on inspiration
Go with the flow -mindset guides Luka's production process, and he enjoys that.
"You never know what idea is going to be presented that night. I start with the groove, because somehow it's easier for me to make melodies to that. For me, then it's always percussions for the groove. Percussions need to be on point. And when I have that, then I start with some kind of darker melodies. But it's really fun. For example, I started a couple nights ago making a really, really dark track, with really weird scenes and everything. And at one point, I was thinking, okay, I need to make a disco track. And then I opened a new project and started making a really funky disco track. And I was confused. At the end of the night. I was like, how did I get from this to this? I wasn't sure how that happened, but like I said, I let my inspiration guide me.", tells Luka and continues:
"I have a weird taste in how to produce, I still don't make tracks that I want to make. I still don't have the knowledge to put everything into the program for my ideas, because I don't have any musical background compared to other people, who went to musical high school and had all kinds of piano lessons and everything. I literally started learning the theory three months ago.", says Luka.
Luka's latest release was on Multinotes Exhibition VA vol. 3. Listen here:
Unpredictability is the new reality
It is easy to say that Luka has talent. Determination and hard work have been needed on the way, but for Luka it has rather been fun and the best job in the world. Corona has had a huge impact on his career and increased the feeling of uncertainty for the future.
"I hope that the last corona restrictions will end soon so I can get back to my career. I'm working a regular 9 to 5. I would rather spend that time producing. A steady income is good, but I hope to be in a position where I can put all my focus into my music soon. Corona shook me. Everything changed. Unpredictability became the norme. A year before corona, my mother told me: 'Son, you need to have a regular job, a steady income'. And I was like: 'What can happen? Just tell me what can happen that the whole world will stop'? Not long after this conversations with my Mom, Corona happened. I guess Mother knows best.", says Luka with a massive grin on his face.
We surely haven't seen the last of Luka. Hopefully Copenhagen will be on his touring schedule soon enough. The important take-away from Luka's story is, that as long as you have a great talent, it is possible to make it in the electronic music industry. You just need to want it, really want it. Follow your heart and the rest will come.
WORDS BY ERIKA LOIMUKALLIO aka DJ VON CASTRO