12oct11:00 pmSimian Mobile Disco (Jas Shaw DJ set), David Garset, Nilu + more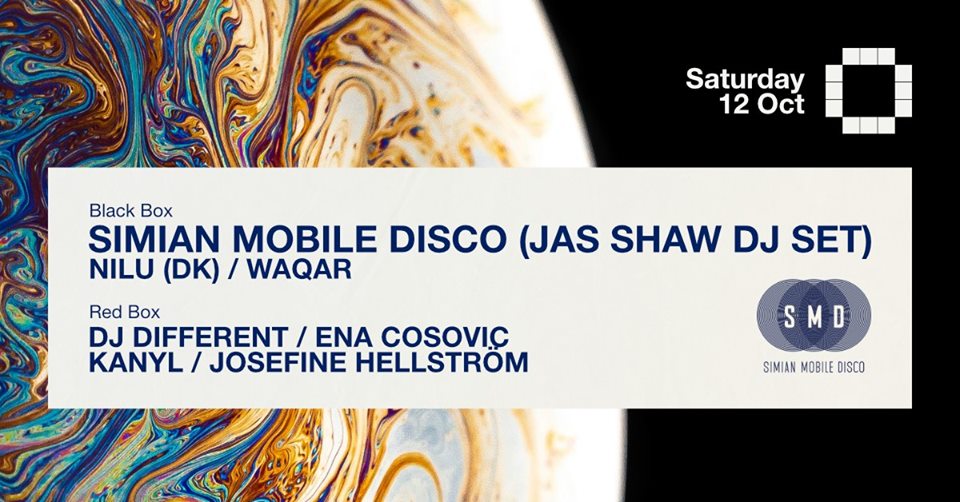 Event Details

BLACK BOX
– Simian Mobile Disco (Jas Shaw DJ set)
– NILU DK
– Waqar

RED BOX
– DJ Different
– Ena Cosovic
– Kanyl
– Josefine Hellström

DOOR: 100 DKK

—————————————

NB: Early bird tickets on sale at only €8 until 25 August! After that, the price is €12.

Get them here: https://www.residentadvisor.net/events/1308419

—————————————

🖤 BLACK BOX 🖤

When Simian Mobile Disco were formed they never imagined they'd end up creating a human synthesizer. They've done essential releases on Wichita Records and the tastemaker Kitsune label to name a few. Meanwhile they were also keeping their hand in with the electronic underground, both through DJ sets and their 'Delicacies' series of 12″ releases, for which they've collaborated with clubland mainstays like Bicep, Roman Flügel and Cosmin TRG. Delicacies also became the platform for Jas Shaw's solo releases, which have seen him become an important figure in the global techno scene in his own right. Jas maintains a love of the kind of small underground club spaces "where there can be a degree of anarchy in the real sense: people self-organizing around their common interest". With that in mind, we think Culture Box is just perfect for him to play his DJ set and we're eager to bring him to Copenhagen.

Nilu (DK) opens up in Black Box while Waqar from Distortion Festival will be playing the closing set into the late hours of Sunday morning.

❤️ RED BOX ❤️

Red Box is home to a hot musical foursome featuring DJ Different from Lobster Theremin, Kanyl from Klubb Döden, Josefine Hellström from Dred Records and local heroine Ena Cosovic also from Dred Records who plays her last gig before giving birth to her techno baby.

—————————————

🏆 THE GOLDEN HOUR 🏆

For those of you who like free beers, we offer unlimited Tuborg Gold before midnight so make sure to arrive early.

—————————————

💜 ATTITUDE CODE 💜

Culture Box operate an attitude code. We have a zero tolerance policy to any form of harassment to our guests and staff. That includes leering, rude comments, touching and any behaviour that makes you feel uncomfortable. If someone is making you feel uncomfortable then please notify a member of our staff or the security, they are all trained to help you. We kindly ask for mutual respect. Without respect, love is lost.
Location

Culture Box

Kronprinsessegade 54, 1306 Copenhagen
Organizer