06may10:00 pmAnja Schneider / Christian Nielsen / Ian Bang / VÄM / Jokke / Cha'rain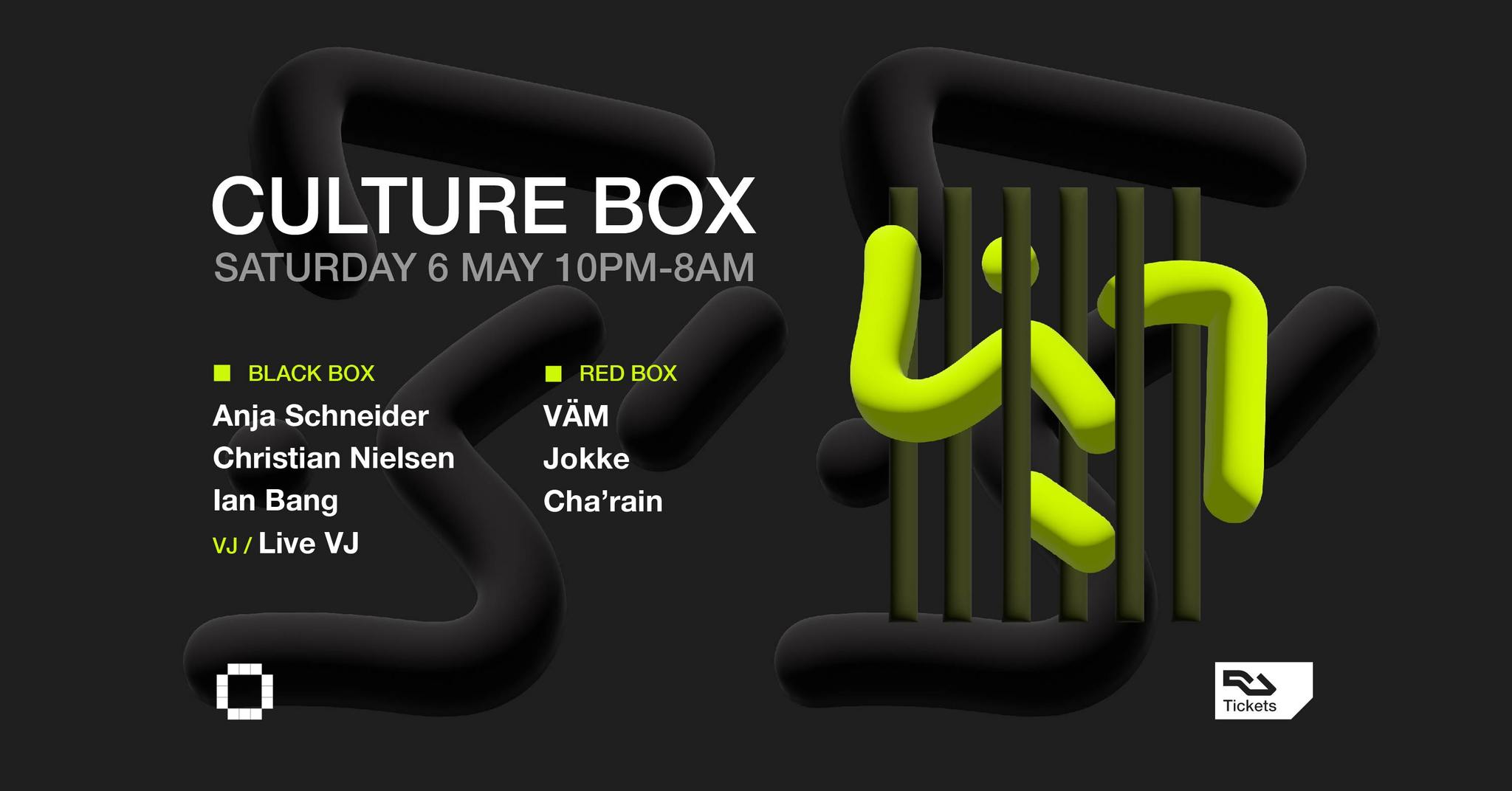 Event Details

DJ, producer, radio broadcaster, label boss and tireless creative force and mentor, Anja Schneider is back in Copenhagen with her unique take on house and techno.
 120 / 150 DKK
Buy tickets: 
https://ra.co/events/1678592
First drink/beer for free the first open hour.
Black Box lineup:
Anja Schneider / Christian Nielsen / Ian Bang
Red Box lineup:
VÄM / Jokke / Cha'rain
She was recognised in 2021 with the award of a Honour Prize by The Berlin Music Commission for having had "an outstanding impact on the music scene", Anja Schneider continues to operate as one of electronic music's most vital artists, currently focused on multiple projects including radio shows and her Sous Music record label, the main home for Anja's own productions and avant guard artists she admires. She will be fully supported by no strangers to the Black Box crowd, Christian Nielsen from Diynamic and Ian Bang. In Red Box Jokke, VÄM and Cha'rain will make Red Box sweat and groove.
 Go explore!
https://soundcloud.com/anjaschneider
https://soundcloud.com/christiannielsenmusic
https://soundcloud.com/ian-bang
https://soundcloud.com/jannichp
https://soundcloud.com/jokke
https://soundcloud.com/charain
 Attitude Code
Culture Box operate an attitude code for a safer space. We kindly ask you to respect your fellow clubbers and our staff to create the best atmosphere possible. We have a zero tolerance policy to any form of harassment. That includes leering, rude comments, touching and any unwanted attention or behaviour that makes anyone feel uncomfortable. No homophobia, transphobia, sexism or racism accepted. If someone is making you feel uncomfortable then please notify a member of our staff or the security, they are all trained to help you. Take care of yourself and each other. Without respect, love is lost.
 Instagram
https://www.instagram.com/cultureboxdk/
 Newsletter, sign up!
We announce events, share small features and other stories from our world within electronic music. Sign up here 
https://culture-box.com/newsletter/
Location

Culture Box

Kronprinsessegade 54, 1306 Copenhagen
Organizer