02aug11:00 pmCulture Box Back To Back Attack!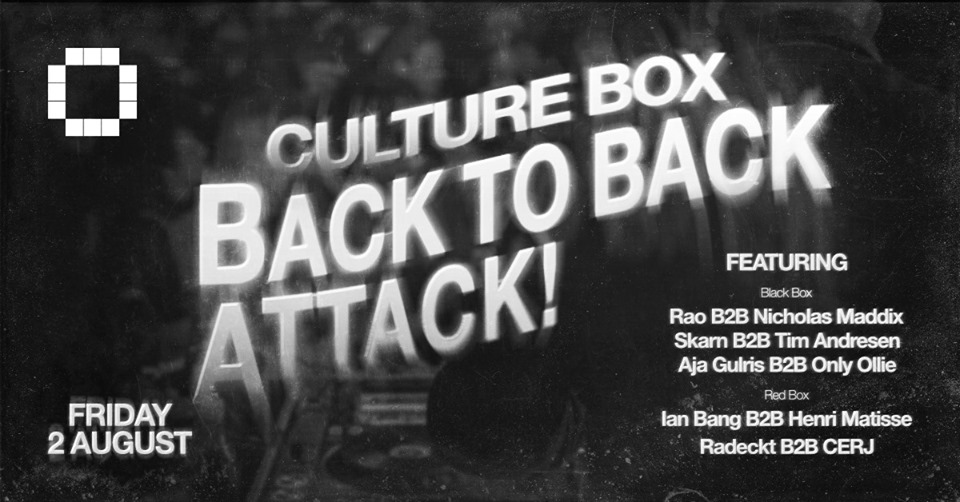 Event Details

BLACK BOX
– Rao B2B Nicholas Maddix
– Skarn B2B Tim Andresen
– Aja Gulris B2B Only Ollie

RED BOX
– DJ Ian Bang B2B DJ Henri Matisse
– Radeckt B2B CERJ

DOOR: 100 DKK
—————————————

NB: Early bird tickets on sale at only €8 until 30 June! After that, the price is €12.

Get them here: https://www.residentadvisor.net/events/1283976

—————————————

It's time for Culture Box's night of special B2B combos featuring no less than 10 DJs that have blown our minds on numerous occasions.

Solo DJ sets come and go, but the sight of two DJs bringing their unique sounds and pushing each other further with their selections can make for a night etched in electronic music folklore. Beyond similar musical tastes, there needs to be a certain chemistry and friendship and the DJs need to be able to feed off of each other's energy. They also have to work with one another to take the set somewhere, to build it up and break it down. You get the idea, don't you? Local DJ hero Skarn curated the lineup while also celebrating his 30th birthday on this night.
—————————————

🏆 THE GOLDEN HOUR 🏆

That's not all. We serve unlimited free Tuborg Gold before midnight for your drinking pleasure so make sure to arrive early.
—————————————

💜 ATTITUDE CODE 💜

Culture Box operate an attitude code. We have a zero tolerance policy to any form of harassment to our guests and staff. That includes leering, rude comments, touching and any behaviour that makes you feel uncomfortable. If someone is making you feel uncomfortable then please notify a member of our staff or the security, they are all trained to help you. We kindly ask for mutual respect. Without respect, love is lost.
Location

Culture Box

Kronprinsessegade 54, 1306 Copenhagen
Organizer