09nov11:00 pmExtrawelt LIVE / Nandu / Umloud / Rosa Lux / Bendix B2B Backhaus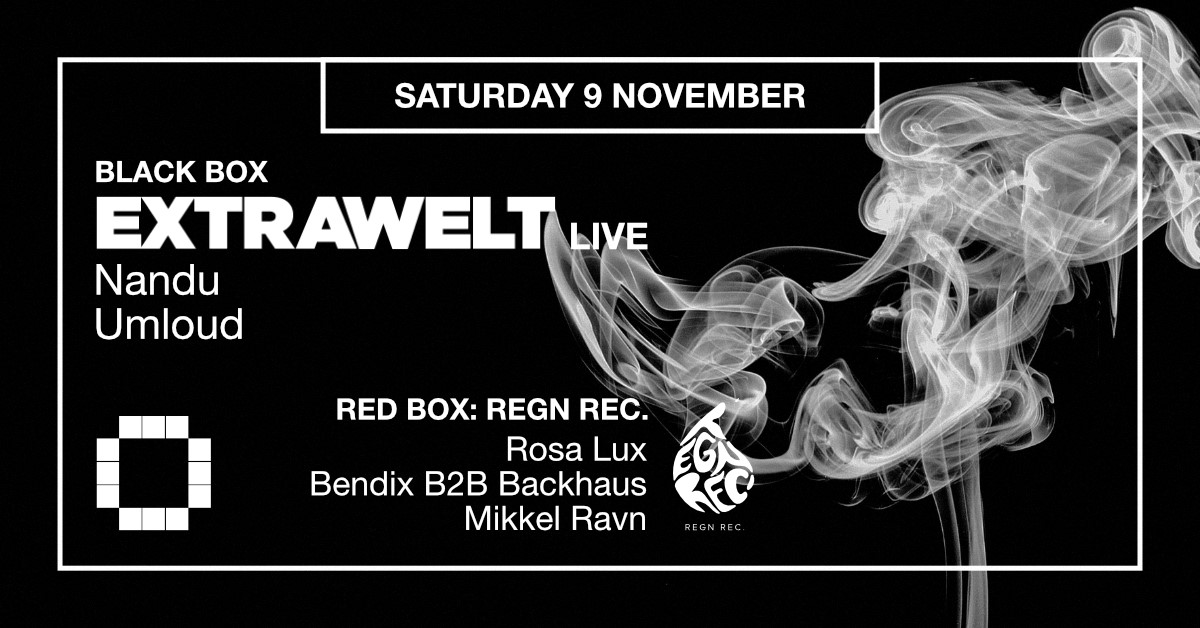 Event Details

BLACK BOX
– Extrawelt LIVE
– Nandu
– Umloud

RED BOX: Regn Rec.
– Rosa Lux
– Bendix B2B Backhaus
– Mikkel Ravn

DOOR: 120 DKK

NB: Please be aware that this event is a club night with two stages and a host of different artists. We cannot guarantee entry to both stages at all times.

—————————————

Early bird tickets on sale at only €8 until 30 September! After that, the price is €12.

Get them here: https://www.residentadvisor.net/events/1316550

—————————————

🖤 BLACK BOX 🖤

Living and breathing electronic music for what has now been twenty years, Extrawelt have made their mark on its history. The very first production was released on James Holden's revered Border Community label and paved the way for an exceptional career that includes a plethora of records on Sven Väth's Cocoon, Kompakt, Traum etc. and countless live shows at the most interesting clubs and festivals around the globe.

Nandu from Exit Strategy plays the opening set and local Banana Club duo Umloud finish the night in Black Box.

❤️ RED BOX ❤️

The team members from Regn Rec. are in Red Box with Rosa Lux paying Culture Box a very rare visit. Head honcho Bendix plays back to back with Backhaus while Mikkel Ravn (formerly known as Padawan) rounds off a monstrous lineup here at Copenhagen's cathedral of clubbing.

—————————————

🏆 THE GOLDEN HOUR 🏆

We are handing out unlimited free Tuborg Gold from all the bars before midnight.

—————————————

💜 ATTITUDE CODE 💜

Culture Box operate an attitude code. We have a zero tolerance policy to any form of harassment to our guests and staff. That includes leering, rude comments, touching and any behaviour that makes you feel uncomfortable. If someone is making you feel uncomfortable then please notify a member of our staff or the security, they are all trained to help you. We kindly ask for mutual respect. Without respect, love is lost.
Location

Culture Box

Kronprinsessegade 54, 1306 Copenhagen
Organizer