13sep11:00 pmFur Coat / Djuma Soundsystem / Nandu / Jamiie / Schaarup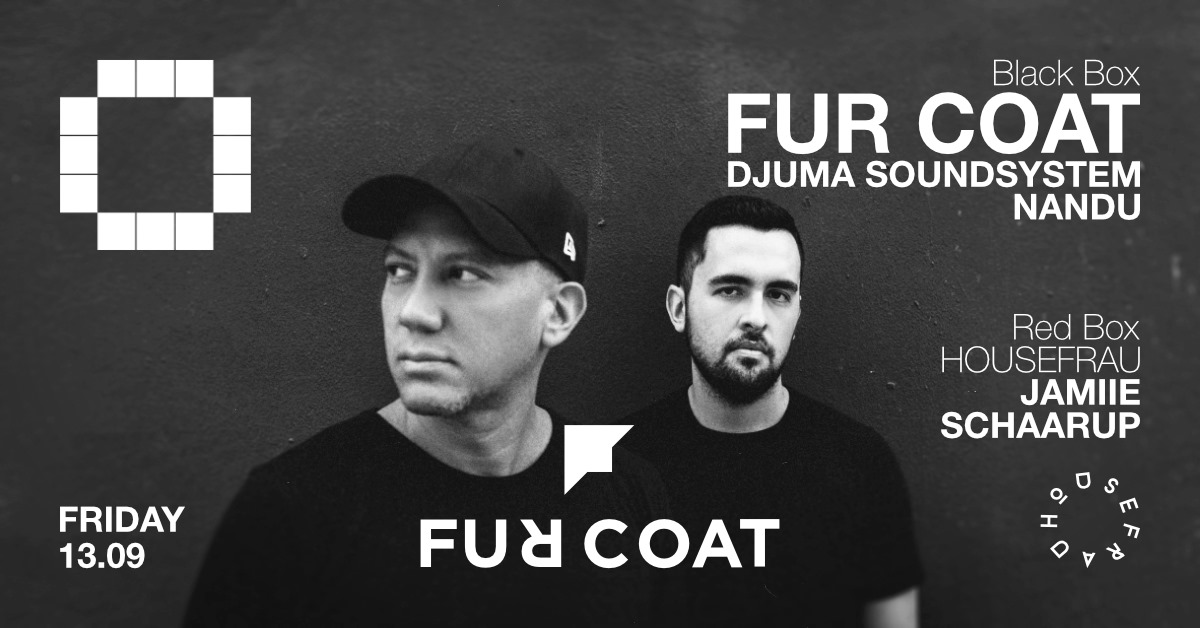 Event Details

BLACK BOX
– Fur Coat
– Djuma Soundsystem
– Nandu

RED BOX: Housefrau
– JAMIIE
– SCHAARUP

DOOR: 120 DKK

—————————————

NB: Early bird tickets on sale at only €11 until 4 August! After that, the price is €15.

Get them here: https://www.residentadvisor.net/events/1298444

—————————————

🖤 BLACK BOX 🖤

Hailing originally from Venezuela, and now based in Barcelona, Fur Coat's story is one of passion for techno and electronic music. It's a tale of deep, dark driven beats and rolling grooves that both encapsulates the mind and moves the feet. They have released on Crosstown Rebels, Hot Creations, Bpitch Control, Last Night On Earth, Watergate, Oddity and more. As a result the guys found themselves racking up the airmiles and rocking the dance floors of the most prestigious clubs in the world on a weekly basis.

Two of the capital's finest, Djuma Soundsystem from Get Physical and Nandu who just signed with Exit Strategy will also perform in Black Box.

❤️ RED BOX ❤️

Housefrau is back in Red Box with first lady Schaarup who invited Berlin based JAMIIE from Rise, an African inspired event and record label based in the German capital.

—————————————

🏆 THE GOLDEN HOUR 🏆

Who wants unlimited free Tuborg Gold beers? Get here for the Golden Hour between 11pm and midnight.

—————————————

💜 ATTITUDE CODE 💜

Culture Box operate an attitude code. We have a zero tolerance policy to any form of harassment to our guests and staff. That includes leering, rude comments, touching and any behaviour that makes you feel uncomfortable. If someone is making you feel uncomfortable then please notify a member of our staff or the security, they are all trained to help you. We kindly ask for mutual respect. Without respect, love is lost.
Location

Culture Box

Kronprinsessegade 54, 1306 Copenhagen
Organizer