07dec11:00 amI Hate Models / Ctrls / Vixen / Marc Ross / Tim Andresen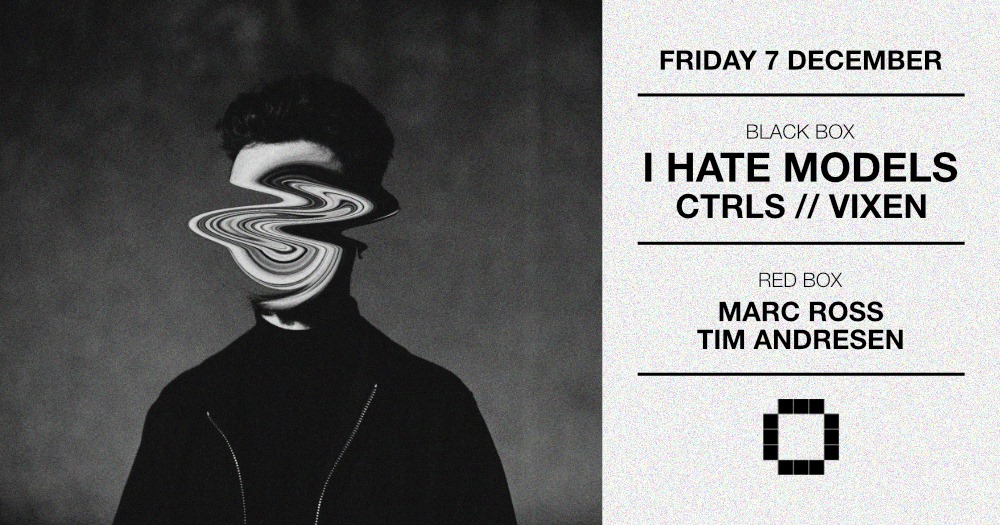 Event Details

Black Box:
– I Hate Models
– Ctrls
– Vixen
Red Box:
– Marc Ross
– Tim Andresen

NB: Early bird tickets on sale at only €8 until 28 October! After that, the price is €12.

Pushed in front of the scene late in 2016 with his Warehouse Memories EP released on ARTS, "I Hate Models" has known an eye-popping ascent. With a variety of releases on labels such as ARTS, Voitax, T/W/B or Pls.uk, he is as eclectic in his productions as in his DJ sets, and navigates between Rave music, Industrial sounds or EBMish productions. He tries to not limit himself to a specific genre, exploring all electronic universes, and succeeded to create a certain "touch" recognizable in his tracks, with an association between emotional synths and colder sounds. With an artistic line based on the expression of melancholia and intense emotions, his music can be characterized by a showdown between Love and Hate, Darkness and Light.

Vixen is one of the new breed of techno DJs in our capital. She gets her Culture Box debut and plays the opening set. Ctrls from Token Records plays the final set of the night in Black Box showcasing his fast paced and futuristic signature sound.

Marc Ross is a fresh young Italian DJ who is making waves internationally. He also produces music and is signed for NONSTOP, Toolroom and many more. He visits Culture Box for the first time and joins What Happens and Savoir Fare Musique label owner Tim Andresen who needs no further introduction to the Culture Box loyals.

We hand out free Tuborg Gold from all the bars between 11pm and midnight so please come early and join the crowd.
Location

Culture Box

Kronprinsessegade 54, 1306 Copenhagen
Organizer