06sep11:00 pmJohn Digweed / Tim Andresen / The Hunts / Virvar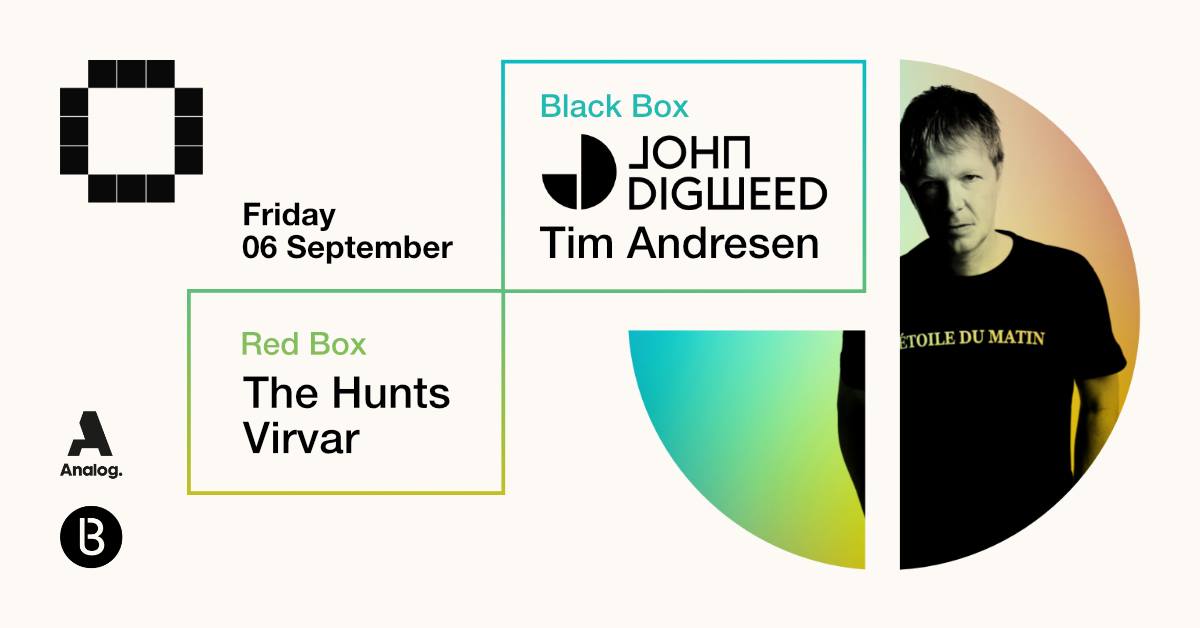 Event Details

BLACK BOX
– John Digweed
– Tim Andresen

RED BOX
– The Hunts – Copenhagen
– Virvar

DOOR: 140 DKK

—————————————

NB: Tickets will be released in 3 rounds. 1st release tickets will be €14, 2nd release tickets will be €16, and 3rd release tickets will be €18.

Get them here: https://www.residentadvisor.net/events/1296377

—————————————

🖤 BLACK BOX 🖤

We are proud to welcome back John Digweed, one of the biggest DJs of all time.

His list of achievements is groundbreaking to say the least. Highlights of which would be the first proper DJ mix compilation ("The Mix Collection", done with Sasha), being the first British DJ to hold a residency at what was then the world's most well known club in NYC Twilo as well as having remixed music by Underworld, Quincy Jones, William Orbit and New Order. He was also voted DJ Mag's number 1 DJ in 2001. His management and creative direction for his Bedrock record label has helped launch the careers of many artists. As one half of Bedrock the production duo he has produced and remixed countless productions. John can be found playing at the world's biggest festivals and coolest clubs including his Resistance Ibiza residency with Sasha. His Transitions radio show is broadcast in over 60 countries worldwide to 14 million people a week and is the number one show consistently on Mixcloud. Good reason for John being one of the most respected DJs in the world. His sets are often filled with moodiness and musical mystery but held down with a punchy distinctiveness and earthly rhythm.

Copenhagen's main man Tim Andresen will be playing the opening and closing set in Black Box. His list of accolades is longer than your arm. He's the label boss at What Happens and the UK-based Savoir Faire Musique. Producing approx. 230 releases/remixes on various high profile labels and performing in more than 40 countries across the globe, Tim is one of just a few Danish DJs with truly international reach. His musical talents have not gone unnoticed, and resulted in him landing the "Best DJ" award at Club Awards, and "Most Popular Nordic DJ" by Megamind.

❤️ RED BOX ❤️

In Red Box we have The Danish DJ-duo The Hunts. The founders and promoters of the Moist parties and former residents at KB18, Rebekka and Jonas are two of the most loved people on the Danish club scene and famous for being party starters and creating good vibes. They invited Virvar to join for their Culture Box debut and a long night in our cozy and intimate surroundings. Virvar is the project name of Thomas Westerby (aka Westerby and One Man Orchestra) and Mads Laursen. Expect chunky deep house grooves mixed with the melodic side of techno.

—————————————

🏆 THE GOLDEN HOUR 🏆

Unlimited free Tuborg Gold to be served from 11pm-midnight.

—————————————

💜 ATTITUDE CODE 💜

Culture Box operate an attitude code. We have a zero tolerance policy to any form of harassment to our guests and staff. That includes leering, rude comments, touching and any behaviour that makes you feel uncomfortable. If someone is making you feel uncomfortable then please notify a member of our staff or the security, they are all trained to help you. We kindly ask for mutual respect. Without respect, love is lost.
Location

Culture Box

Kronprinsessegade 54, 1306 Copenhagen
Organizer