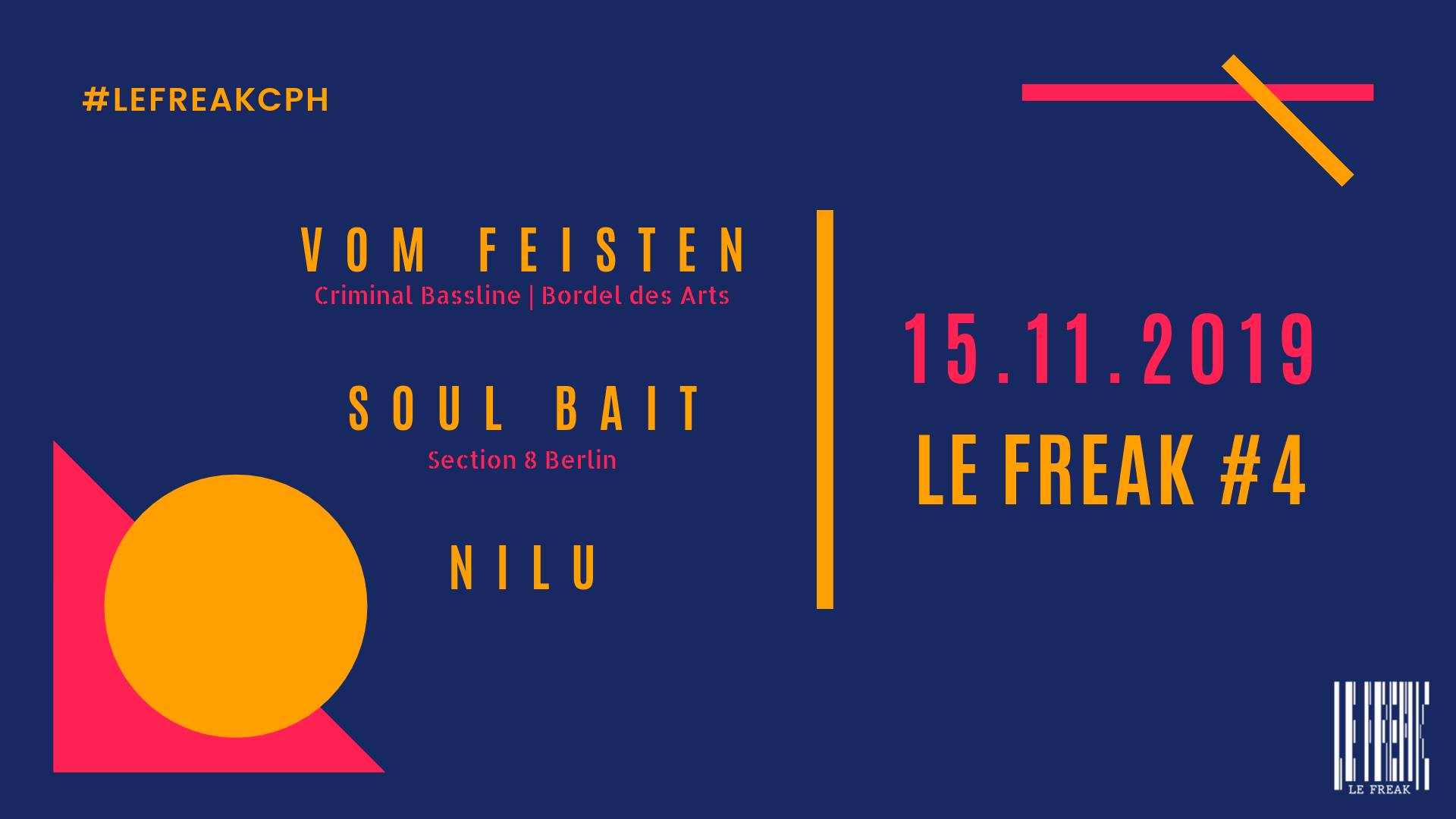 Event Details

Here we go again!
After an unforgettable Le Freak #3, we're ready with another epic line up. We'll pick it up where we left off with another handsome Berlin crew. We've invited DJs Vom Feisten (Criminal Bassline | Bordel Des Arts) and Soul Bait (Section 8) to join us for another freaky night of deep house and techy sounds. As always our main man NILU will be behind the decks as well.

To help set the tone for yet another mind-boggling night, we've invited Argentinean Habby to warm up the floor.

▬▬▬▬▬▬▬▬▬▬▬▬▬▬▬▬▬▬▬▬▬▬▬▬▬▬▬▬▬▬
Pre party from 21.30-23, free entry & drinks
▬▬▬▬▬▬▬▬▬▬▬▬▬▬▬▬▬▬▬▬▬▬▬▬▬▬▬▬▬▬

Line up

✘ vom Feisten – Criminal Bassline / Bordel Des Arts

✘ Soul Bait – Section 8

✘ NILU DK – Golden Gate records / Lump Records

Pre Party:

✘ Habby

▬▬▬▬▬▬▬▬▬▬▬▬▬▬▬▬▬▬▬▬▬▬▬▬▬▬▬▬▬▬

Hosts: NILU & Karoline Lund

Le Freak is the newest addition to the electronic club scene in Copenhagen, taking place in the legendary location of Chateau Motel – a location that has housed several successful night clubs throughout the time.
Le Freak aspires to spread the word of the electronic scene. To democratize a diverse genre and to create a space where you can let loose and get freaky. All this in a space that has housed thousands of parties throughout the years.
Location

Chateau Motel

Knabrostræde 3
Organizer