23aug11:55 amPeccāvī presents: Colyn, Nina Hepburn / Ved Siden Af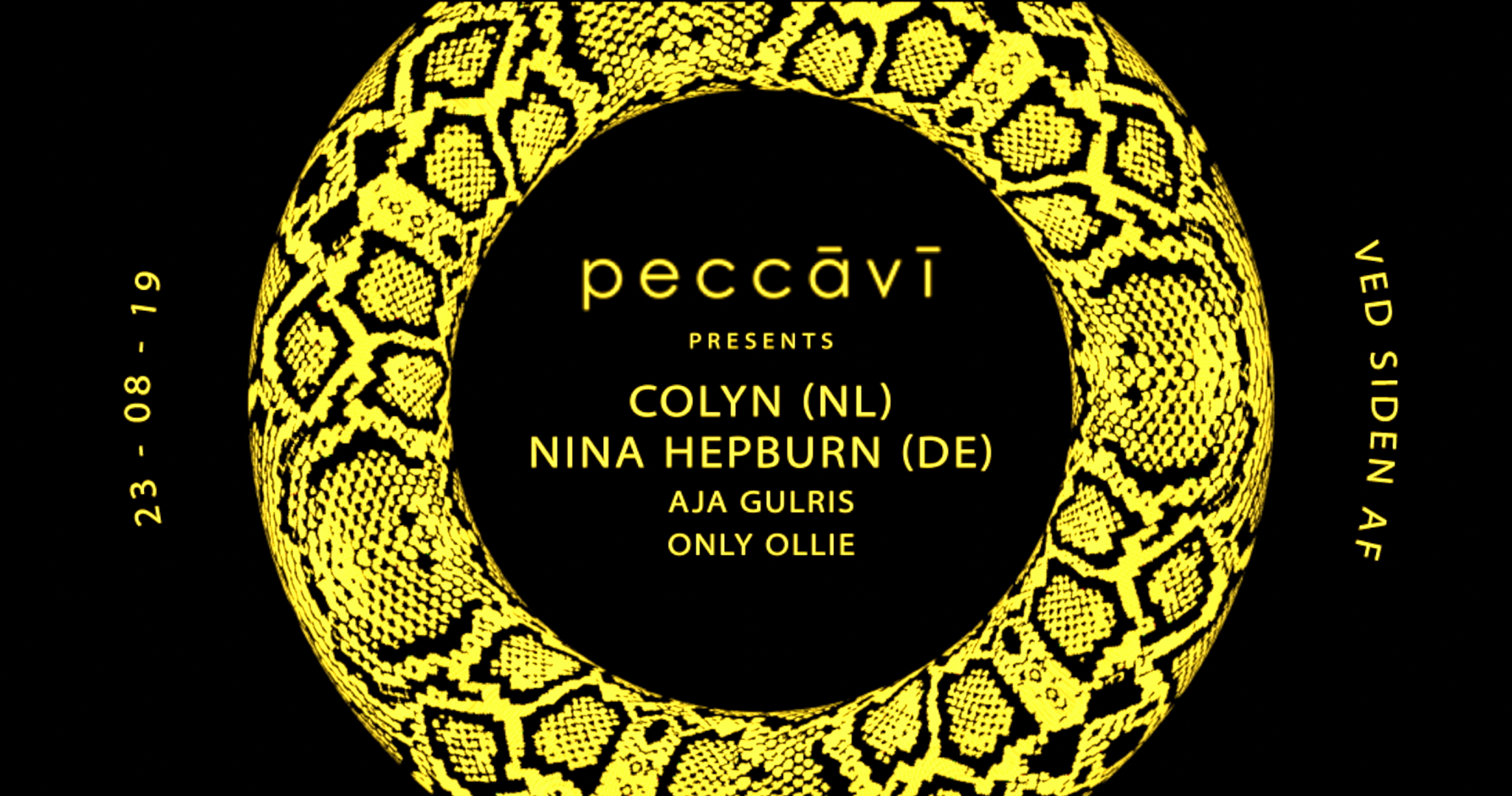 Event Details

On the 23rd of August Peccāvī invites you to our darkest night so far!

LINEUP:

–> Colyn (Afterlife, La Rêve)
–> Nina Hepburn (Geistzeit)
–> Aja Gulris
–> Only Ollie

We've brought in Colyn and Nina Hepburn for a night to remember as they both have their DK debuts. The supporting acts will be delivered by your Peccāvī residents; Only Ollie on warmup duty and Aja Gulris closing.

Colyn (NL)
https://soundcloud.com/colynmusic
His debut album "Binary Choices" is what made us fall in love with his dark and captivating melodic sound. He has since then released on labels such as Us & Them, Infinite Depth and latest Tale of Us' label Afterlife with support from all the big players. He is for sure one to keep an eye on and we can't wait to have him guest Peccāvi.

Nina Hepburn (DE)
https://soundcloud.com/nina-hepburn
Hamburg based Nina Hepburn is also on the rise. She is represented by Innacircle's label Geistzeit and has played alongside names such as Adriatique and Innellea. Nina has a love for dark and mysterious soundscapes accompanied by energetic rhythms and we know she'll deliver a banging set.

<————————————————
————————————————>

INFO
Entrance fee: 100,-
Wardrobe 20,-
Minimum age 21

We reserve the right to deny anyone entrance with no explanation, refunds will be handed out in the door.

HOUSE RULES
– No pictures or videos of any kind inside the club.
– No racism, homophobia, transphobia or sexism.
– No phones on our dancefloors.
– No touching without asking and no means NO!
– No leering, you may look but don't stare!

<————————————————
————————————————>

We welcome all sexualities.
We welcome all ehnicities.
We welcome all genders.

All we ask is that you respect your fellow dancer and enjoy RIGHT NOW.
Our place is a space for dancers and we prioritize the regular crowd.
Location

Ved Siden Af

Vesterbrogade 2b
Organizer