06mar11:00 amSam Paganini / Moist & Kellerhobel + more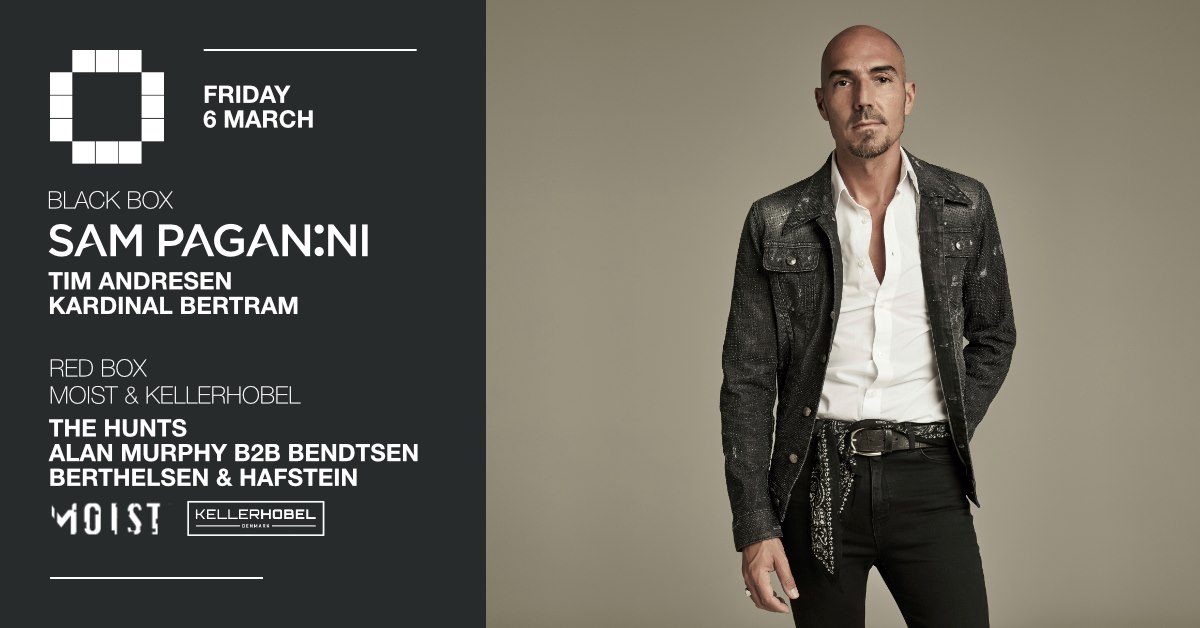 Event Details

BLACK BOX
– Sam Paganini
– Tim Andresen
– Kardinal Bertram

RED BOX: Moist & Kellerhobel
– The Hunts – Copenhagen
– Alan Murphy b2b Bendtsen
– Berthelsen & Hafstein

Visuals by Hackstage

DOOR: 120 DKK

—————————————

NB: Please be aware that this event is a club night with two stages and a host of different artists. We cannot guarantee entry to both stages at all times.

Tickets come in 3 releases: €11, €13 & €15.

Get them here: https://www.residentadvisor.net/events/1381877

—————————————

🖤 BLACK BOX 🖤

Italian techno stalwart Sam Paganini finally gets his Culture Box debut and it's set to be big.

Sam Paganini has collaborated and released his music on several record labels until Techno pioneer Richie Hawtin welcomed him to his Plus8 imprint in 2011. With subsequent releases on Sven Väth's Cocoon Recordings and Adam Beyer's Drumcode, all reaching the highest spots on Beatport's Techno Chart, his unique musical journey has achieved great success. That includes "Rave" that was N°1 Beatport Techno and became the most clicked techno track ever on Youtube. In 2016 Sam founded his own label JAM as a new platform to play out his vision of techno music. Beside his studio work and production time, Sam's DJ appearances are among the most requested by promoters worldwide. Black Box support comes courtesy of What Happens label owner Tim Andresen and Tunghør's Kardinal Bertram.

❤️ RED BOX ❤️

Moist and Kellerhobel get together in Red Box with The Hunts, Alan Murphy B2B Bendtsen and a debut by the Aarhus duo Berthelsen & Hafstein.

—————————————

🏆 THE GOLDEN HOUR 🏆

Unlimited free Tuborg Gold are being served before midnight to accompany the banging beats.

—————————————

💜 ATTITUDE CODE 💜

Culture Box operate an attitude code. We have a zero tolerance policy to any form of harassment to our guests and staff. That includes leering, rude comments, touching and any behaviour that makes you feel uncomfortable. If someone is making you feel uncomfortable then please notify a member of our staff or the security, they are all trained to help you. We kindly ask for mutual respect. Without respect, love is lost.
Location

Culture Box

Kronprinsessegade 54, 1306 Copenhagen
Organizer