26jan11:00 pmSession Victim / Paxton Fettel / Tight Cherry / Nps / Gary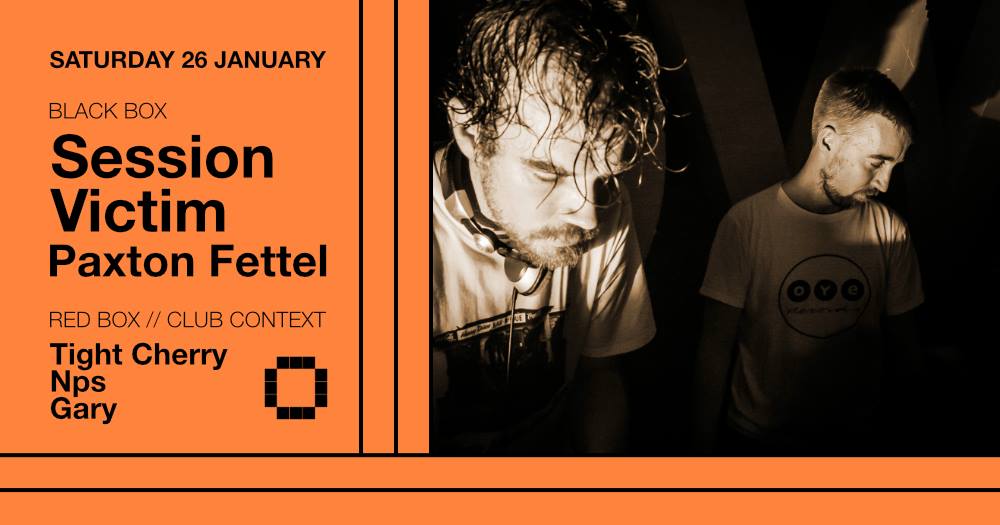 Event Details

Black Box:
– SESSION VICTIM
– Paxton Fettel
Red Box:
– Tight Cherry
– Nps
– Gary

NB: Early bird tickets on sale at only €8 until 23 December! After that, the price is €12.

Now in their tenth year of DJing and producing together, Session Victim started releasing music when opinion was firmly stacked that vinyl was dying and embracing digital was the only way to sustain a career as a producer. Having both been able to give up their day jobs somewhere along the way, their formula, based on a solid foundation of friendship, is proof that if you're making music for the genuine love of the process, it's possible to go against the grain, stick to your principles and still win out. Having released three long players with London imprint Delusions of Grandeur, Session Victim's original productions are also associated with Retreat, XK and Real Soon and they have remixed various artists on labels such as Classic, Greco Roman, Heist, Toytonics, Tartelet, Permanent Vacation and Razor N Tape. 2018 also marked the start of their own vinyl only imprint, Pen & Paper.

Danish music wizard Paxton Fettel supports in Black Box. Over the years he has done releases on Greta Cottage Workshop, Apersonal Music and more and proved one of Copenhagen's most talented musicians in electronic music.

Tight Cherry brings her Club Context to Red Box. Bord in Romania but based in Denmark, she's is now a radio host and presenter at MmhRadio. She invited Nps and Gary who runs the new Copenhagen based vinyl label Eurotate.

We kindly suggest you arrive early. We have unlimited free Tuborg Gold being handed out from the bars before midnight.

This is also the official afterparty for Paul Kalkbrenner's already sold out concert at DR Koncerthuset. People showing their ticket for this get in at half price.
Location

Culture Box

Kronprinsessegade 54, 1306 Copenhagen
Organizer