09aug11:00 pmSoul Clap / Kasper Bjørke / Sexy Lazer / Namunel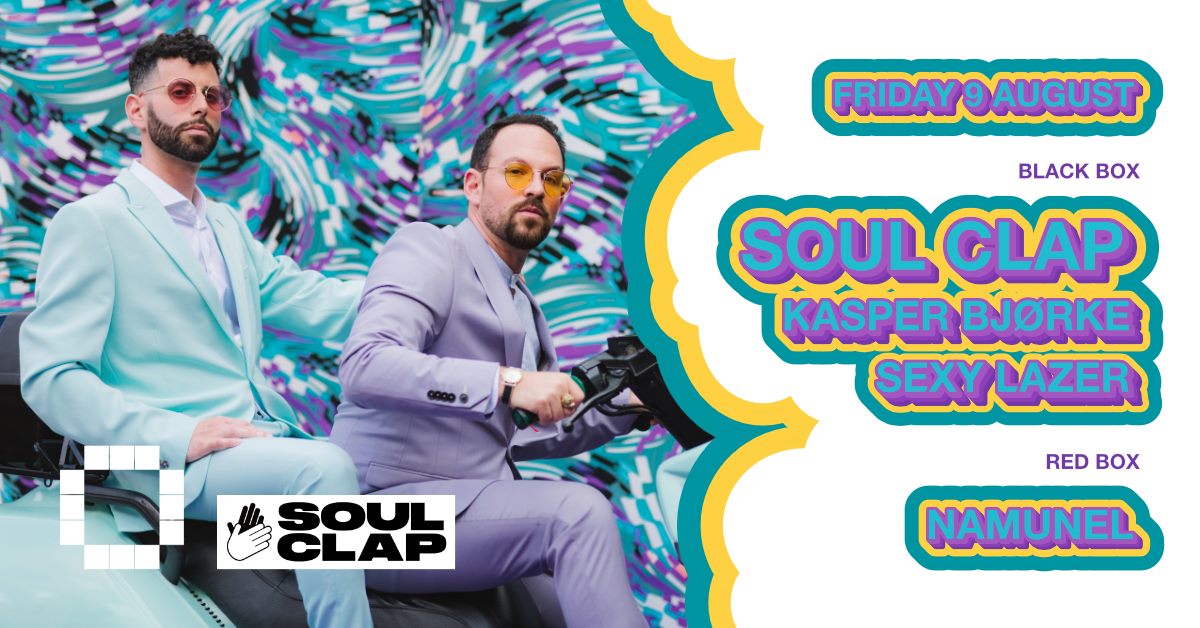 Event Details

BLACK BOX
– Soul Clap
– Kasper Bjørke
– Sexy Lazer

RED BOX
– Namunel

DOOR: 120 DKK

—————————————

NB: Early bird tickets on sale at only €11 until 23 June! After that, the price is €15.

Get them here: https://www.residentadvisor.net/events/1282207

—————————————

🖤 BLACK BOX 🖤

Soul Clap time travels on a musical spaceship of dopeness… They were taught that "house wears many hats" and instilled the sounds of American dance music while fostering an addiction to digging that has become a worldwide quest to acquire the best vinyl. Soul Clap´s training goes beyond history lessons to mastering all the elements of the DJ: knowledge, mixing, programming, performance and experience. From their hometown of Boston, Soul Clap went out to perform in all 4 corners of the globe. They proudly launched Soul Clap Records and also completes the trinity now known as Crew Love, a family formed with Wolf + Lamb and Double Standard Records.

Support in Black Box courtesy of Danish star Kasper Bjørke while his Icelandic friend Sexy Lazer will do the closing set.

❤️ RED BOX ❤️

The Namunel duo will make a monstrous return to Red Box for the first time in a few years. If you've been to the Distortion street parties at Elmegade in Nørrebro, you've attended their soundsystem.

—————————————

🏆 THE GOLDEN HOUR 🏆

Another thing to pay attention to is the Golden Hour between 11pm and midnight with unlimited free Tuborg Gold for your drinking pleasure.

—————————————

💜 ATTITUDE CODE 💜

Culture Box operate an attitude code. We have a zero tolerance policy to any form of harassment to our guests and staff. That includes leering, rude comments, touching and any behaviour that makes you feel uncomfortable. If someone is making you feel uncomfortable then please notify a member of our staff or the security, they are all trained to help you. We kindly ask for mutual respect. Without respect, love is lost.
Location

Culture Box

Kronprinsessegade 54, 1306 Copenhagen
Organizer