29feb11:00 pmWoo York LIVE/ M€rcy/ Radeckt/ Azpecialguest/ Meggy/ Rasmus Juul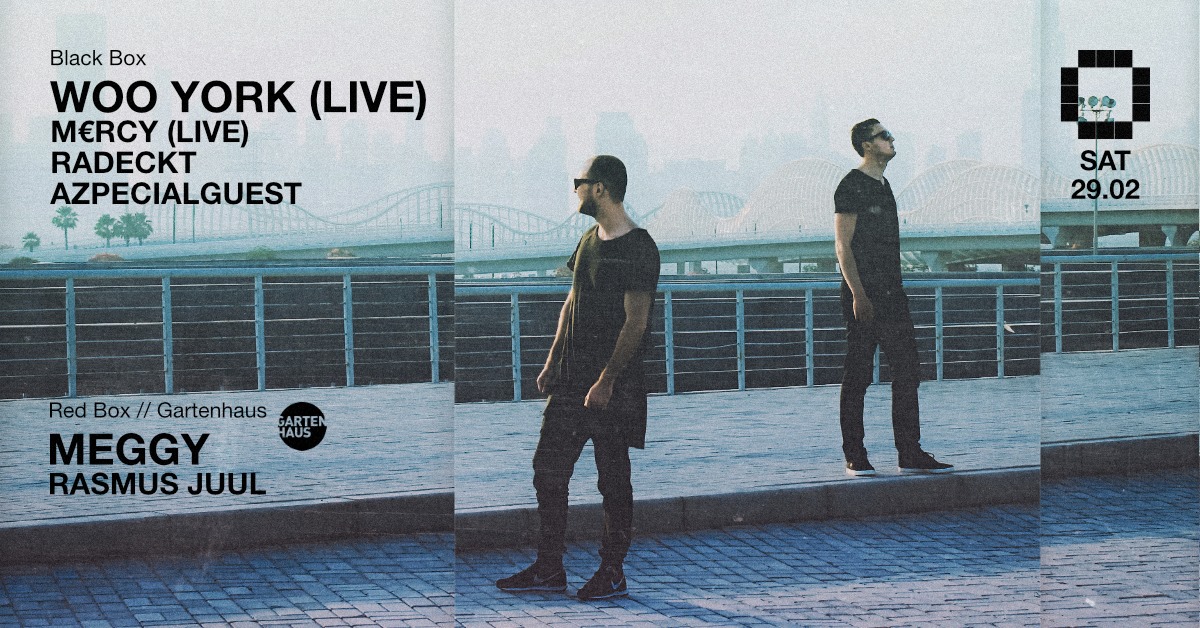 Event Details

BLACK BOX
– Woo York (LIVE)
– M€RCY (LIVE)
– Radeckt
– Azpecialguest

RED BOX: Gartenhaus
– meggy
– Rasmus Juul

DOOR: 120 DKK

—————————————

NB: Early bird tickets on sale at only €11 until 26 January After that, the price is €15.

Get them here: https://www.residentadvisor.net/events/1375051

—————————————

🖤 BLACK BOX 🖤

Woo York has come a long way as an internationally recognized live act with their own signature sound. The sound is not just plain four-to-the-floor techno but it's the melodic side of their music that make them stand out. They've become integral members of the international techno community, releasing music on Afterlife, Life And Death, Drumcode, Dystopian, Soma Records and Planet Rhythm. Woo York's improvisational, hardware-based live set combines both energetic and experimental techno elements with acid leads and euphoric atmospheres and their performance is not to be missed.

Danish live act M€RCY also plays their vibrant live techno set in Black Box while DJ support comes courtesy of Radeckt from MoBlack and Aeon as well as CPH Deep and IG60 member Azpecialguest.

❤️ RED BOX ❤️

Meggy from Berlin sparked off her musical career at a young age. She quickly made a name for herself and found herself DJing at Berlin's leading clubs including Watergate and legendary Bar25. She now found her label home at Soul while also doing stuff for other imprints. Meggy joins Rasmus Juul to play for Gartenhaus' label night in Red Box.

—————————————

🏆 THE GOLDEN HOUR 🏆

Beer is proof that God loves us and wants us to be happy. We bring you unlimited free Tuborg Gold between 11pm and midnight.

—————————————

💜 ATTITUDE CODE 💜

Culture Box operate an attitude code. We have a zero tolerance policy to any form of harassment to our guests and staff. That includes leering, rude comments, touching and any behaviour that makes you feel uncomfortable. If someone is making you feel uncomfortable then please notify a member of our staff or the security, they are all trained to help you. We kindly ask for mutual respect. Without respect, love is lost.
Location

Culture Box

Kronprinsessegade 54, 1306 Copenhagen
Organizer