10aug11:00 pmIdealist / Ohm / Ricq / NILU (DK) / Azpecialguest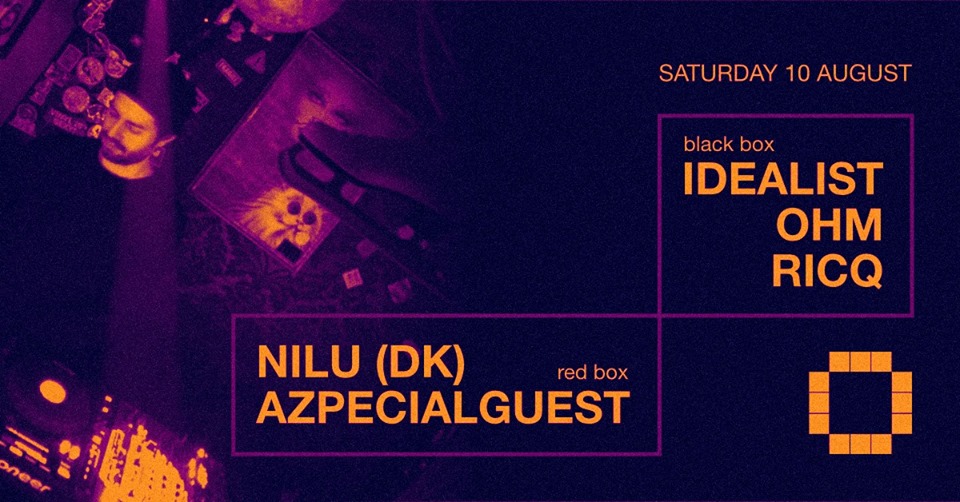 Event Details

BLACK BOX:
– Idealist
– OHM
– Ricq

RED BOX:
– NILU DK
– Azpecialguest

DOOR: 100 DKK

—————————————

NB: Early bird tickets on sale at only €8 until 14 July! After that, the price is €12.

Get them here: https://www.residentadvisor.net/events/1289927

—————————————

🖤 BLACK BOX 🖤

Based in Zurich (Switzerland), Idealist has produced music for more than a decade. In the last half decade he took further steps with signings to labels like Echocord, Pro-Tez and Berg Audio while focusing on building up his own imprint Idealistmusic and its sublabel Details Series. Both of which gained him wide international recognition.

Born in Iceland but residing in Copenhagen, Ohm will be playing the warm up set in Black Box. His story goes way back to the 90s with tons of releases on labels like Thule Records, Rawax, Luck Of Access and more. Ricq from the infamous KUNE crew is on closing duty.

❤️ RED BOX ❤️

The Parallel frontman Nilu (DK) is in Red Box all night and shares the decks with Azpecialguest from CPH Deep and the IG60 parties.

—————————————

🏆 THE GOLDEN HOUR 🏆

If you get here early we offer unlimited free Tuborg Gold between 11pm and midnight from all the bars.

—————————————

💜 ATTITUDE CODE 💜

Culture Box operate an attitude code. We have a zero tolerance policy to any form of harassment to our guests and staff. That includes leering, rude comments, touching and any behaviour that makes you feel uncomfortable. If someone is making you feel uncomfortable then please notify a member of our staff or the security, they are all trained to help you. We kindly ask for mutual respect. Without respect, love is lost.
Location

Culture Box

Kronprinsessegade 54, 1306 Copenhagen
Organizer