We went to the Sunday party Love.Rave to have a talk with Housefrau and an upcoming act at Roskilde Festival 2019, Mai Schaarup.
The fragile rays of spring sun is doing their best to heat up the courtyard at Halmtorvet 9 in Copenhagen. Inside H9 Paxton Fettel is giving the early arrivers a taste of hot, bumpy disco from his lovely repertoire. With an ice cold draught beer in hand I sit down to have a talk with DJ and producer Mai Schaarup before it's her turn to spoils us.
The first thing that comes to mind is that I have to congratulate Mai on getting booked for the role of Countdown Stage resident at Roskilde Festival.
– Thank you so much. I have spent a few summers at Roskilde Festival, so it's an honor to bring my sound to the stage. They booked me for a residency, so I will be doing 45 minute sets between the other artists. Even though it's short sets it will still be possible to build momentum, tell a story and warm up the crowd so they are ready for my Countdown colleagues, says Mai and blows out a massive dragon-like cloud from her e-cigarette before continuing:
– This is really a dream come true. I am so happy that I get the chance to be a part of a festival I love so much. Now I'm just crossing my fingers for some sunshine to go along with my sets, laughs Mai.
From the inside we can hear Paxton Fettel firing of some of that magic he has produces with Ryan Dank as the dance floor slowly but surely get more crowded.
Pride
Now knowing that Roskilde Festival will be one of the highlights in the eight years that Mai has spend DJing and producing, but what else has been major moments for Mai? She takes a long sip of her non-alcoholic lager and thinks for a second before a big ear-to-ear smile appears.
– Sus Wilkins and I have had a lot of fun hosting parties as Housefrau for the past two years, but the first thing that came to mind is Copenhagen Pride. Last year was the second time that we played the main stage at City Hall Square and it was insane. From stage the crowd seemed to go on forever. Besides the almost intimidatingly large crowd it was so amazing to play for my brothers and sisters at Pride. To see them dance and enjoy my selections just gave me so much energy, says Mai and looks like she is mentally transported back to Pride.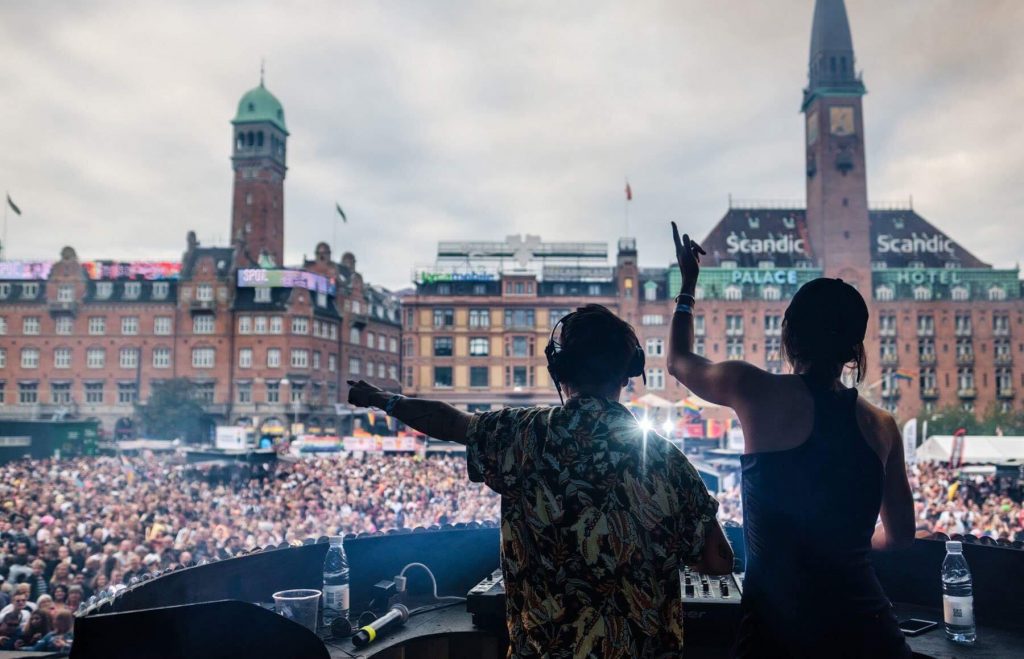 Mai continues in the spectra of highlights, but this one is more of an elbow rubbing kind of situation.
– Last year I went to the Katermukke showcase here in Copenhagen because it was just too big to miss. Had a blast at the party and just danced my small feet off. Luckily I know the CPH DEEP guys who hosted the party, so I could stay after the lights were turned on. Ended up talking to Dirty Doering and Niconé – they were not ready to end the night. So the after hours was at my place that Saturday morning. It's hard not to be a little starstruck when you are hosting these guys, but they are super nice, says Mai.
Knowing myself, I would most likely have turned into a giggling little school boy, if these legends were lining up to use my bathroom, but no time to dwell on my lack of bladder control around superstar DJs.
The Housefrau parties
When Mai is not rubbing elbows with legends, she is a busy lady. Tending to her own alter ego, being on the roster for Future Female Sounds and turning up the Thursday heat at Condesa with Bad Omen. On top of this she is hosting her own brand of parties with Sus Wilkins called Housefrau. For two years they have put their imprint on Copenhagen's nightlife by hosting parties at Culture Box and Bakken among others.
– As you might guess it is really enjoyable to be able to book DJs that we personally like. I have been really proud of our bookings so far. With DJs like Meggy, Bruna, Daniela Cast and Hatari we feel that we have given Copenhagen a diverse taste of the house world. Our booking goals are 50/50 male and female DJ. So far it has been 100% female but looking at the overall bookings of Copenhagen, I think we can catch up to our goal later, says Mai as our talk draws to a close.
This Housefrau is a perfect example that time passes fast when in good company. There is under half an hour till she is on deck and it's time to feel the room. I don't even have to ask Mai if she is ready to take over – it just radiates off her.
Next Housefrau party will be during Distortion – see more HERE.

Love.Rave
The recorder is turned off and I can now let the music turn me on. Love.Rave is the Sunday party that Copenhagen is missing, in my humble opinion. I get on the floor to join my friends for the final tunes of Mr. Fettel. The tempo has been turned up a bit and I close my eyes and drift to another dimension. Opening them again to see Mai turning into Schaarup as she plugs her USB and headphones in to the turntables. The smile from 30 min ago is still there, but also a more focused look has come across her face.
The crowd applauses the resigning turntablist and we get ready for Schaarup to spoil us for the next two hours. As I know from our talk earlier, she has nothing prepared for the set as she rather just feels the room and matches her set to the needs of the dancers. And she does it quite well. Starting out slow with a dark melancholic twist in her selections, Schaarup is hitting the sunset hour quite perfect. I could spend lines on end describing her selection, the story Schaarup told from the booth or how she was dancing when her fingers weren't busy. I will not do that, but I will tell you that she keeps this reporter on the dance floor for two full hours, excluding a few bathroom breaks. I will urge you to catch Schaarup when you get the chance.
It was a pleasure to hear Schaarup play live and on top of that at a Sunday party. I head over to thank my favorite Housefrau for the music and lovely company. And to whomever is reading this I highly recommend Sunday parties at Love.Rave, if you like that cozy, intimate party with über good vibes and sprinkles of love.
BY MARTIN ESKESEN