Saying the words 'morning party' would make most ravers think of the last time they
stumbled out of the club head spinning and cursing their tardiness for not having
sunglasses to protect them from that bright and low hanging morning sun. Morning
Beat wants to flip the concept of morning parties 180 and start a new era of drug and
alcohol-free clubbing in Copenhagen.
Morning Beat is a concept born during the cold Oslo winter early last year. Tired of the
regular club scene and unwanted sexual attention from men, Øyunn Iversen and Marjana Bøstrand
found inspiration from alcohol and drug-free parties in Berlin, New York and London. They
wanted to recreate the club experience but also to make it a safespace where dancing and
smiling will make the serotonin and dopamine flow instead of dipping into the baggy.
Marjana and Øyunn were apparently not alone with their wish to change the club
atmosphere. Morning Beat Oslo grew quickly. The first party was mainly with friends but now
the average is 250 happy faces at the morning club events. 2⁄3 of which are women, so the
need for having the safe party experience is clearly desired.
The first Morning Beat is hitting Copenhagen soon and local organizer Angela Huser wants
to recreate the same safeplace as in Oslo. She can't wait to kick off the movement in
Copenhagen.
"Normally when going to a rave I warm up with sleep and a cup of coffee. Arriving sober at the club at 5am can be a strange experience. Drunk people trying their best to keep the balance and a lot of people in their own techno bubble. We want to provide an inclusive andhealthy alternative to night time raving with great music in a community where connection,dancing and love gets you high instead of drugs." Angela Huser.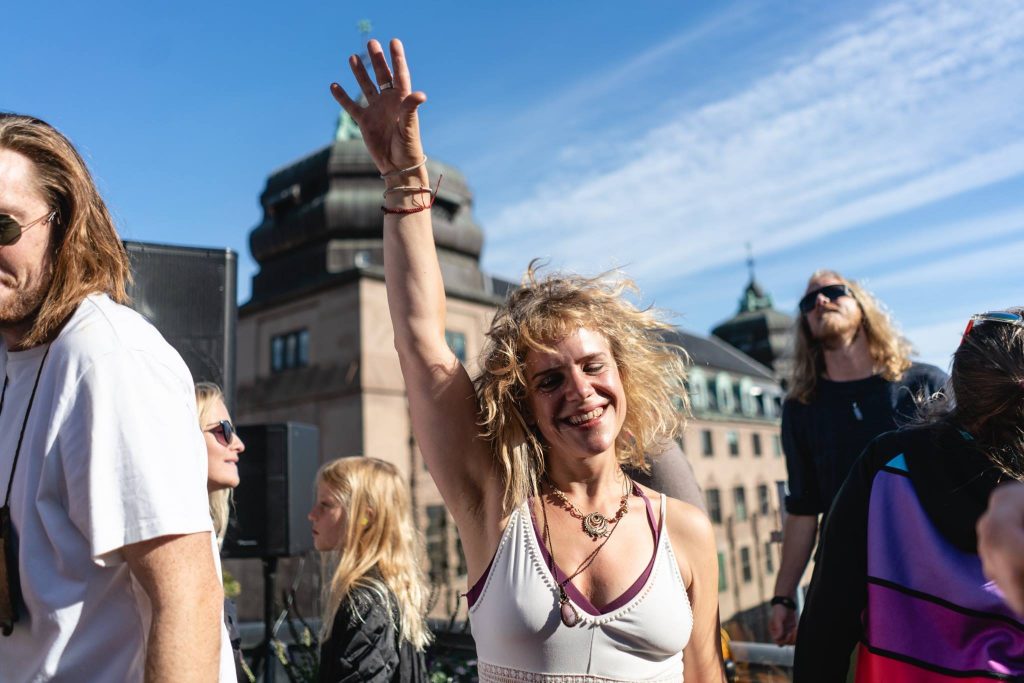 What to expect
This unusual electronic music event wakes you up at 6.30 am and goes until 10 am where
the last hour of HeartWise Yoga will stretch your mind and body. The bar has been replaced
with an organic breakfast buffet and of course, there will be a biodegradable glitter station to
get your morning rave face to glow as much as your heart.
"Morning Beat is kind of like starting your day with going to the gym. You get an early start to
the day, get the blood flowing and maybe break a little sweat. We have just replaced the
spinning bike and heavy weights with a vibrant, morning fresh dancefloor where we love to
see people dancing, smiling and connecting with new people. Everybody is welcome and I
would love to see lots of seasoned electronic music lovers with their kids.", says Angela.
The morning beats will this time around be provided by two of the most seasoned DJs in the
Copenhagen scene. Leragér (Two House Recordings) and CPH DEEP's own DJ Ian Bang,
who together hold more than 30 years' experience from the electronic music scene, are
ready to showcase their skills to the happy morning ravers. Ian Bang is looking forward to the
event and will be providing a soundscape of uplifting electronic vibes and pumping
technofied beats with just a little smidge of disco to start your day off right.
Morning Beat is not trying to replace the traditional way of clubbing, but rather create an
alternative with healthy sweats, uplifting beats, a feeling of an inclusive community and a
downward facing dog that has never felt quite so good.
Words by Martin Eskesen. Photo credit Christopher Remme & Mikael Ortenheim.
Morning Beat will kick off its first edition on the 16th of October @ 6:30-10AM @ H15 in the Meatpacking District in Copenhagen. You can get all the info you need on the eventpage including ticketlink for Morning Beat.