17jan11:00 pmBenjamin Damage / Pernille / Steven Fremad / The Lazer Lounge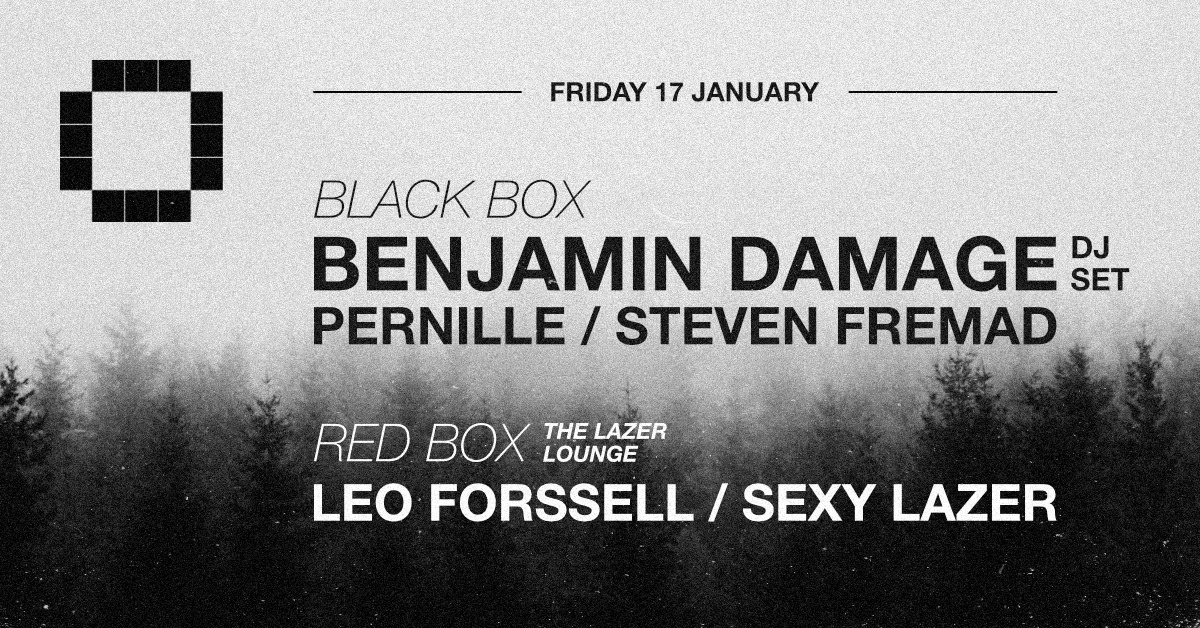 Event Details

BLACK BOX
– Benjamin Damage
– Pernille
– Steven Fremad

RED BOX: The Lazer Lounge
– Leo Forssell
– Sexy Lazer

DOOR: 100 DKK

—————————————

NB: Early bird tickets on sale at only €8 until 15 December! After that, the price is €12.

Get them here: https://www.residentadvisor.net/events/1355888

—————————————

🖤 BLACK BOX 🖤

Bold UK techno. Benjamin Damage was the first artist signed to 50Weapons and released the last artist album to close the label. He is now signed to R&S Records. Benjamin Damage's roots lie firmly within the UK's underground although he relocated to Berlin in 2011. Drawing from early rave to jungle to nineties house, Benjamin's non-purist approach to techno produces an energy and emotion rarely found in modern electronic music.

The radio host on Mango Drive at Heartbeats, Pernille returns to Culture Box to play the first set in Black Box. Kosa Vostra main man Steven Fremad took us by storm back in September and we thought it would be good and proper to invite him back to do the closing set here.

❤️ RED BOX ❤️

The Lazer Lounge takes change of Red Box with Icelandic star Sexy Lazer who invited Leo Forssell from Stockholm for an extended session.

—————————————

🏆 THE GOLDEN HOUR 🏆

Here's the decent offer for you if you arrive before midnight: Unlimited free Tuborg Gold for your drinking pleasure.

—————————————

💜 ATTITUDE CODE 💜

Culture Box operate an attitude code. We have a zero tolerance policy to any form of harassment to our guests and staff. That includes leering, rude comments, touching and any behaviour that makes you feel uncomfortable. If someone is making you feel uncomfortable then please notify a member of our staff or the security, they are all trained to help you. We kindly ask for mutual respect. Without respect, love is lost.
Location

Culture Box

Kronprinsessegade 54, 1306 Copenhagen
Organizer