04sep10:00 amCulture Box Reopening Weekend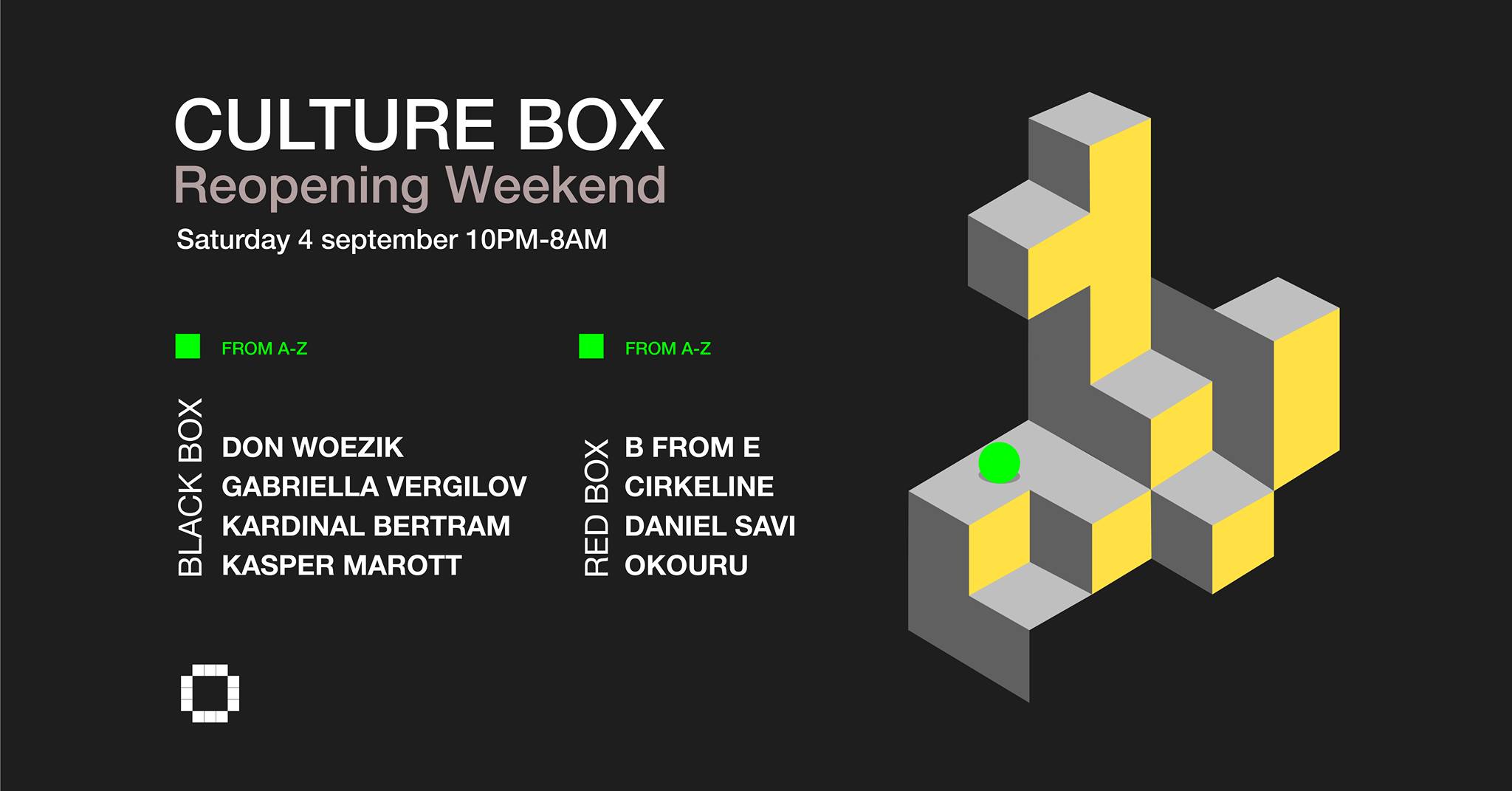 Event Details

The wait has come to an end! We are beyond excited to welcome you back to Culture Box for four days of extraordinary music, dancing, hedonism and the biggest celebration of nightlife community in our lives while kicking off a new era in clubbing history.

Black Box (from A to Z)
Don Woezik
Gabriella Vergilov
Kardinal Bertram
Kasper Marott

Visuals by Hackstage.

Red Box (from A to Z)
B From E
Cirkeline
Daniel Savi
Okouru

Kasper Marott finally gets to perform after the landing of his debut album "Full Circle" on Axces Recordings earlier this year. His new sounds touch on the same bright, colourful approach that defined his earlier work. The Copenhagen wizard is followed by Gabriella Vergilov who makes a welcoming return to Culture Box after moving back to our capital. The Bulgarian whirlwind is in fine form of late and created a huge vibe and buzz in the techno-scene with her energetic Boiler Room performance set in Sofia in June. Up next Don Woezik, originally from Eindhoven, Netherlands. He now lives in Sweden and releases his banging techno on a long list of cool underground labels. Rounding off the night in Black Box is Kardinal Bertram from Tunghør. Visuals provided by Hackstage. B From E recently saw his Many Worlds Scattered Through The Shining Disc Of The Galaxy album out on his own label Buddahood and is arguably one of the most prolific producers and DJs of the Danish underground scene. He is joined by track selector Daniel Savi who is co-founder of BSP bispebjerg records, Parisian DJ Okouru and Cirkeline from Sweetie. The last two get their Culture Box debut.

Attitude Code
Culture Box operate an attitude code. We have a zero tolerance policy to any form of harassment to our guests and staff. That includes leering, rude comments, touching and any behaviour that makes you feel uncomfortable. If someone is making you feel uncomfortable then please notify a member of our staff or the security, they are all trained to help you. We kindly ask for mutual respect. Without respect, love is lost.

Please note
Corona passport needed (you have been vaccinated against, have previously been infected with or have tested negative for COVID-19 within the past 72 hours).
Location

Culture Box

Kronprinsessegade 54, 1306 Copenhagen
Organizer