30aug11:59 pmGroup Therapy - Late Summer Session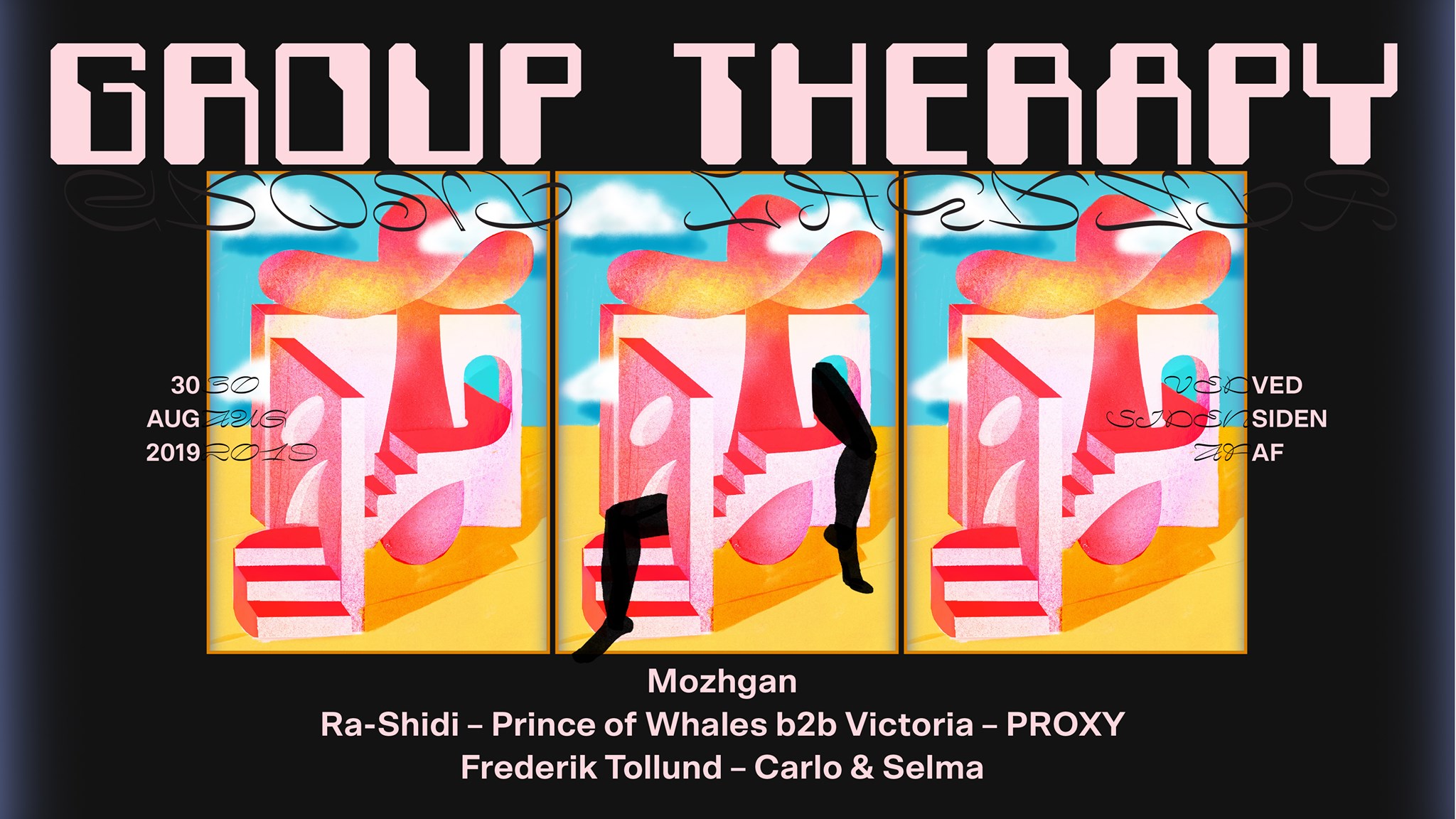 Event Details

Striking back after the sizzling summer heat, we are ready to sweat the basement out and dip our taints in tiger balm again.

100% LOVE – BODY POSITIVITY – WELLNESS CORNER – TAROT READING – DARKROOM – SMOKING LOUNGE

As always: We can't promise to fix all your problems but we can promise that you won't have to face them alone.

THERAPISTS OF THE NIGHT:

☄️ Mozhgan (US)
🐝 Ra-shidi (NO)
🐋 Prince of Whales B2B Victoria (AT/FI)
🍝 Frederik Tollund (DK)
🍌 Carlo & Selma (IT/NO)

Host & Performance by the one and only 👉🏻🌸P R O X Y
Artwork Ciara Wade
Safer Space Ambassadors: Club Mafia
RA Event: https://www.residentadvisor.net/events/1298985

Mozhgan (US)
SC: https://soundcloud.com/mozhgan
RA: https://www.residentadvisor.net/dj/mozhgan-us
Iranian born but California based Artist/DJ Mozhgan has been honing her dark arts on the decks for quite some time. In 2011, when San Francisco clubs were distracted with other trends, she started "We Are Monsters," a party to develop her passion for contemporary, dark, and mysterious dance floor sounds. As a resident DJ, Mozhgan helped curate an instantly recognizable sound and atmosphere that has become synonymous with the party and the acts she has booked to play there. Her affinity for 80's synthesizers, vintage drum machines, ethnic rhythms, 303 inspired bass lines, and moody vocals has captured the attention of dancers and selectors at some of the Bay Area most respected parties and clubs.
Mozhgan has found herself behind the decks at Berlin's Panorama Bar, NYC's Output, Burning Man's Disco Knights, Paris's Badaboom, and Wake Up Call Istanbul. Her stylized approach to dark discotheque-ing has also made it's way into hearts with a series of hit mix tapes and live-sets released online. As the status quo catches up to her eccentric taste in Cold Wave and Industrial beats, Mozhgan finds herself a seasoned veteran ready to take on new dance-floors.

Ra-shidi (NO)
SC: https://soundcloud.com/rolivia
Ra-Shidi has gone from learning to mix to playing at Insomnia festival in Tromsø in less than eighteen months. A precocious talent, Ra-Shidi has an innate musical ability, fusing organic contrapuntal rhythms with vintage synthesisers in exotic mixes forged from chimerical musical landscapes. Mentored by Charlotte Bendiks and with a steep learning curve, it didn't take long for her to rise in the ranks of the local scene. She's a former resident and booker for Circa and Storgata Camping in Tromsø, and is co-initiator of the club night Intim Klubb. Having recently relocated to Oslo to put more focus on music production, she has already graced the dancefloors of clubs in the capital city, including Jaeger and Dattera til Hagen, and this summer she will debut at The Villa and Sommerøya, an electronic music festival based south of Oslo that was listed by the Guardian among 20 boutique festivals not to miss in 2019. This Norwegian talent is ready to expand further south, and we're truly excited to bring her to Copenhagen.

Prince of Whales (AT) B2B Victoria (FI)
SC: https://soundcloud.com/prince_of_whales_dj
SC: https://soundcloud.com/victoriakaroliina

Prince of Whales and Victoria will provide a classy yet surprising selection of tunes for the upstairs dance floor. Prince of Whales, originally from Austria started DJing in Vienna about 6 years ago. During his formative years he had gigs in Southern Sweden, Austria and Germany where his focus was mainly on house, techno and its origins. During his time in Vienna and Munich he grew tired of the prevalent techno sound (and scenes) of both cities so he opened up his radar and started digging for all sorts of music, from everything you could call "world music" to disco, funk, soul, afro and of course still a lot of house and some techno. As soon as he touched down in Copenhagen his interest for harder and faster techno and trance-influenced electronic music came back with a bang, so in a nutshell, all those influences are to be found in his DJ sets. Also being an enthusiastic food nerd and massive pasta lover, he would describe playing a DJ set the following way: Playing a DJ set is like preparing Pasta Frutti di Mare: First you need to catch all the ingredients, then prepare everything and have a taste of every single one here and there. Put it all together and slowly cook it up, let it boil, reduce the heat a lil, keep it sizzling and cook it up again. Repeat.

Hailing from Finland, Victoria is a freshly baked DJ who will play whatever and likes to mix things up, because music is a journey. She draws inspiration from everything from world music to electronic, soulful boogie and uptempo. She has previously guested the Wax Warriors show, Joy Copenhagen and Funky Tuesday. This time at Group Therapy, the journey's rhythm will go a little faster than what you normally hear from her. From Prince of Whales and Victoria, hot italo, spicy house and eclectic rhythms are all in the ingredients list for this night

Your loving residents:
Frederik Tollund – SC: https://soundcloud.com/frederiktollund
Carlo & Selma – SC: https://soundcloud.com/carloselma

______________

ABOUT GROUP THERAPY
Group Therapy is a series of bimonthly therapeutic dancing sessions in Copenhagen. We strive to make space for diversity in and around the DJ booth. In collaboration with Ved Siden Af, we work actively to create a safer space based on community and mutual respect. We invite everyone to come bend and play with the norms!
______________

HOUSE RULES
– No pictures or videos of any kind inside the club. People should not have to worry about being documented. Stickers for smartphones will be given in the door.

– No discrimination, racism, sexism, hatred, misogyny, misandry, homophobia, transphobia, queerphobia and xenophobia. If you experience something please report in to any of the club's staff or find a Club Mafia safer space ambassador.

– No phones on the dancefloors.

– No leering, you may look, but don't stare. If you experience unwanted attention, please don't hesitate to contact Club Mafia, security or the staff.

We welcome all sexualities, ethnicities and genders.

All we ask is that you respect your fellow dancers and enjoy RIGHT NOW.
______________

INFO:
Entrance fee: 100 kr
Wardrobe: 20 kr
Minimum age: 21

The club is not wheelchair accessible.
Location

Ved Siden Af

Vesterbrogade 2b
Organizer