10mar11:00 pmHangaren: Nastia (Ukraine, NECHTO), Ena Cosovic, Kardinal Bertram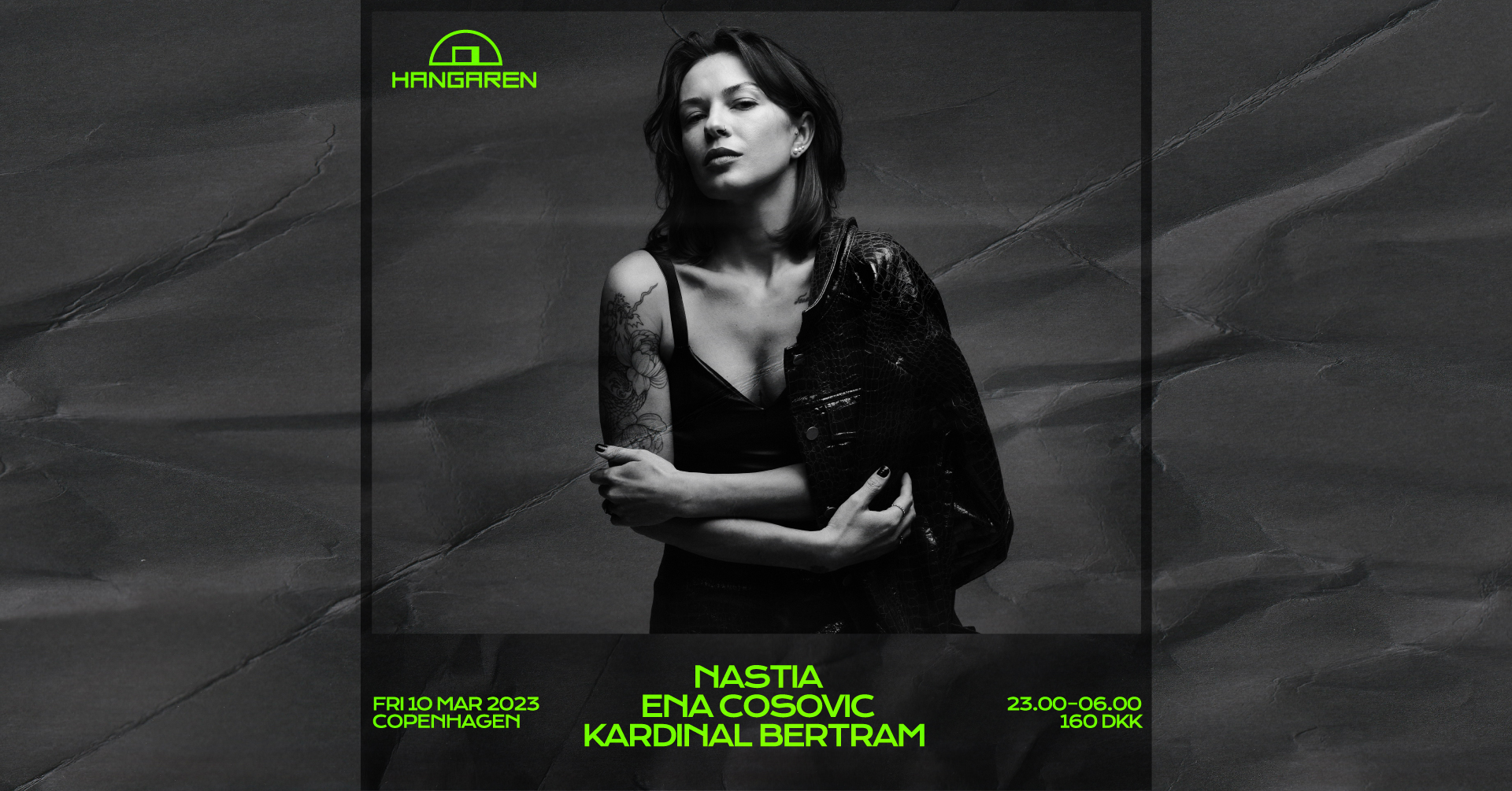 Event Details

Nastia is one of the best-known eastern European techno/house DJs, Nastia's star is firmly in the ascendancy globally. Her style is to an extent adaptable but she has a sound that is unmistakably her own. Her twilight techno, melancholic minimal, stripped-down ghetto funk and sustained house have been wowing crowds all around the world.

Nastia started her career in 2005. In a short time, she became a resident and curator at the legendary Kazantip festival, she also hosted her weekly radio show at Kiss FM from 2006 to 2016.
Her career developed rapidly: she appeared on the covers of MixMag and DJ Mag magazines, recorded an Essential Mix and was a resident of BBC Radio 1, frequently performed for Boiler Room and later made appearances on Berlin's famous radio HOR.
Whilst getting serious about techno music, Nastia created a new label NECHTO. The name itself is an anagram of "techno" and translates as "something else" from origin.

During the pandemic, Nastia kept herself busy and became the first resident of the Beatport Residency project, where she presented the majority of Ukrainian producers and DJs.
All these years, Nastia's activities were aimed at popularizing Ukrainian culture and local artists, which made her the face of the Ukrainian electronic music scene on the global stage. She performs at key venues around the world and takes an active social and political positio. Due to the war in Ukraine, she temporarily moved to Amsterdam and actively supported Ukraine using all of her social instruments, and also opened her own fund to help Ukraine. Currently, she continues to actively perform and represent Ukraine at various dance, media and official platforms.

Presale / Door sale: 160 DKK – Including wardrobe

Presale: 

https://ra.co/events/1650371

Minimum age: 20+

Lost & found: lost@nusnus.dk

Address: Refshalevej 185, 1432 Copenhagen

Hangaren at Refshalevej 185 is an old hangar construction turned into a nightclub for electronic music and event space. Hangaren is located at a secluded green spot on Refshaleøen in central Copenhagen.
We are here to present the city's vibrant electronic music scene.
You will be treated with a heavy soundsystem by Funktion-One.
There is a cosy courtyard with chill-out possibility, a bonfire, big sky scenery from where you can watch the sunset, the stars and the sunrise. The bar serves organic beers, drinks at fair prices.
Our main purpose is to serve as a platform and inspiration for the cultural scene in Copenhagen.

Hangaren wants every guest to feel safe and free at our parties.
This is a shared space and there should be an open atmosphere where everyone can enjoy themselves, whoever they are or wherever they come from. We do not want any harassment based on race, gender, sexual orientation, religion, disability, body size, political orientation, social background or age. If you feel you are being harassed, a victim of nonconsensual touching, or otherwise made to feel unsafe by any form of aggressive or inappropriate attitude, contact our staff or security: they will assist you.
It's only a party if we all feel free!
No photos and video – Stay in the moment!
Dance floor is for dancing – Please respect the vibe!
Organizer
Hangaren - Refshalevej 185