31aug11:00 pmTunghør 5.0: 1 Year of Tunghør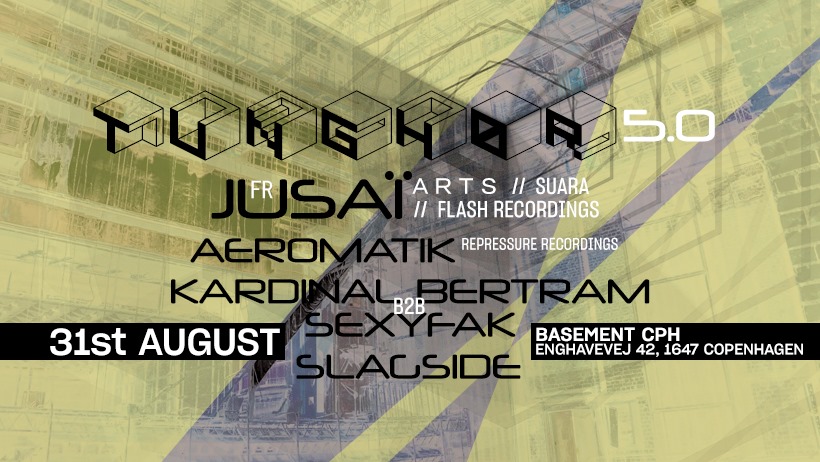 Event Details

Exactly one year has passed since Tunghør was born in the dark cave we all knew as KB18. After KB18 we went to H9, Ved Siden Af and back to H9 again. Afterwards we even packed a full street at the Tunghør x Distortion street party – what a year 🖤

For this very special Tunghør anniversary party we needed a very special venue – this is already in place: We are taking over the legendary Basement CPH for a full night of banging Techno – Let's do this! ⚔️

✚ LINE-UP ✚

Jusaï (FR)
[ARTS, Suara, Flash Recordings]
https://soundcloud.com/jusai

AEROMATIK
[Tunghør, Repressure Recordings]
https://soundcloud.com/aeromatik

Kardinal Bertram B2B SexyFak
[Tunghør]
https://soundcloud.com/kardinalbertram
https://www.mixcloud.com/sexyfak/

Slagside

✚✚✚✚✚✚✚✚✚✚✚✚✚✚✚

✚ Jusaï ✚
Unmissable face within the revival of the French techno scene, Jusaï grew up surrounded by a musical environment thanks to his family which has quickly noticed his remarkable capacities. Inspired by electronic music soon enough, he was instinctively steered towards techno whose productions codes enable him to easily cultivate his unique style which is caracterized by his background as a percussionist.

As talented as curious Jusaï follows his own process when it comes to music production and proclaims his uncompromising trademark what makes his tracks easily identifiable within any sets. His natural ease to take over a various range of subgenres within the techno movement has got him to be detected by the very best veterans from the underground like Florian Meindl and Umek, respectively bosses at Flash Recordings and 1605 Therapy.

When he's not performing in the best French clubs, his music still got youngsters dancing as he's played by an uncalculable number of international acts, be it the great Richie Hawtin, Sam Paganini and Rebekah or the new generation of European producers like Amélie Lens and Charles Fenckler. Now that he has started a new collaboration with the equally famous ARTS records run by Emmanuel, Jusaï has all the cards to go all-in.

✚ Sound ✚
Basement have got a solid system set up with plenty of power.

✚ Limited Capasity ✚
There is a limited capacity at Basement CPH – you can buy your ticket in advance below to secure entry and skip the cue:
https://www.residentadvisor.net/events/1288137

✚ INFO ✚
Entrance fee: 100 DKK
Payment in the door: Cash or Mobilepay.
Payment in the bar: Cash or Cards.
Organizer