18jun10:00 pmWhat Happens // Ikigai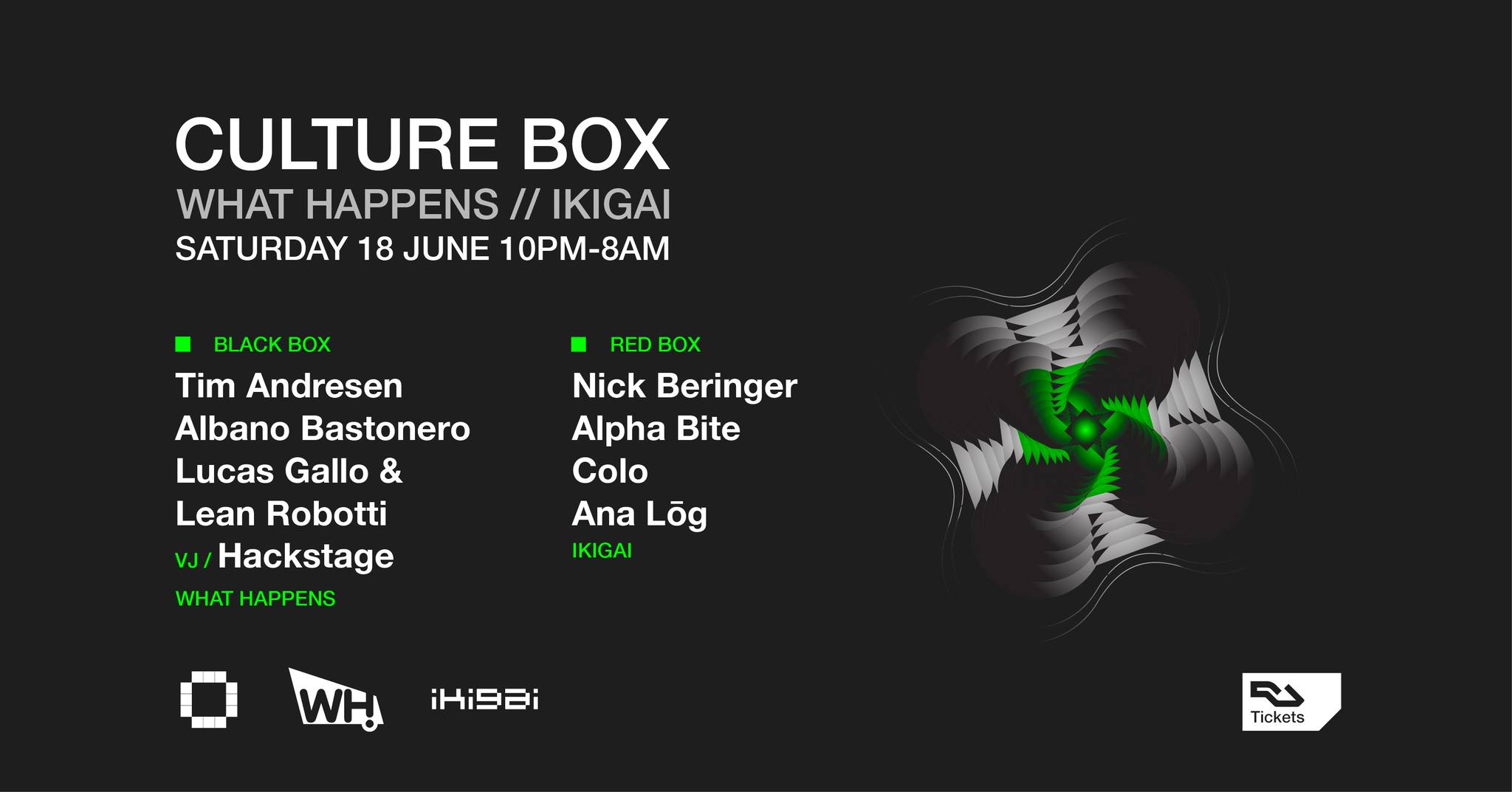 Event Details

What Happens and Ikigai collaborate on an incredible Saturday night here at Culture Box featuring artists with roots in Denmark, Argentina, Germany, Romania and Italy.
 Presale 14-18€ / Door 140 DKK
 Buy tickets: 
https://ra.co/events/1532209
 First drink/beer for free the first open hour.
Black Box: What Happens
Tim Andresen / Albano Bastonero / Lucas Gallo & Lean Robotti
Red Box: Ikigai
Nick Beringer / Alpha Bite / Colo / Ana Lōg
What Happens main man Tim Andresen is joined by new WH signing Albano Bastonero as well as Lucas Gallo & Lean Robotti for a magical session of deep grooves, lush sounds and beautiful melodies in Black Box. Organic and progressive house enjoyed by their always loyal and up-for-it following.
Nick Beringer releases on Skylax and Infuse to name just a few. He headlines Ikigai in Red Box while the second guest Alpha Bite also spins his minimal leftfield grooves hot on the heels of his EP on 7hDuMat. They both team up with Ikigai crew members Colo and Ana Lōg. Nationalities meet both on stage and the floor. We love it!
 Attitude Code
Culture Box operate an attitude code for a safer space. We kindly ask you to respect your fellow clubbers and our staff to create the best atmosphere possible. We have a zero tolerance policy to any form of harassment. That includes leering, rude comments, touching and any unwanted attention or behaviour that makes anyone feel uncomfortable. No homophobia, transphobia, sexism or racism accepted. If someone is making you feel uncomfortable then please notify a member of our staff or the security, they are all trained to help you. Take care of yourself and each other. Without respect, love is lost.
 Go explore!
https://soundcloud.com/tim-andresen
https://soundcloud.com/albano-bastonero
https://soundcloud.com/lucasgallo-leanrobotti
https://soundcloud.com/nick-beringer
https://soundcloud.com/alphabite
https://soundcloud.com/colo-211643580
https://soundcloud.com/ana_log_music
 Instagram
https://www.instagram.com/cultureboxdk/
 Newsletter, sign up!
We announce events, share small features and other stories from our world within electronic music. Sign up here 
https://culture-box.com/newsletter/
Location

Culture Box

Kronprinsessegade 54, 1306 Copenhagen
Organizer