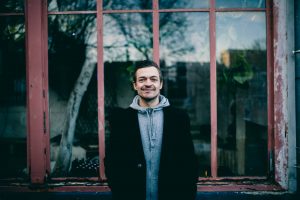 The underground house scene in Copenhagen is a small one. It has its pros and cons but a great thing about it is that you meet interesting people without even trying. A summer night in 2018, when Lulu Rouge and Pablo Bolivar was blowing the roof off another IG60 party, my friend introduced me to a guy he just met. Minutes later we are outside sharing a stick of tobacco that originates from Morocco I think, but who can be sure these days? It doesn't matter because the company was interesting and the common love for house music ever present. The new guy's name is Toke but you might know him by his other alias Ryan Dank. I found the Soundcloud profile of this disco-house gentleman before disappearing into the dancefloor and joining the sea of happy ravers.
In the following months Ryan's sets would often pop up on my radar when working or hanging out with friends. It's the kind of music that makes me bob my head on the bus and dance ever so slightly in the supermarked que – the musical equivalent of getting a warm hug from friendly bear.
After a certain amount of strange looks in the supermarkets across Copenhagen I knew that I had to interview Ryan and luckily he agreed to that. Now having chosen an artist with a name so stoner friendly, there seems to be only one way to do this interview: meet up, dive into his vinyl collection, get stoned like biblical sinners and hope my recorder doesn't fail me.
Here is how it went down – approximately.
Listening to sets online is one thing but to really know the range of a DJ, I believe that you need to witness them live. Especially when your are going to listen to a DJ who started out playing hip-hop and scratching the cheapest records he could find for practice before diving into French and disco house. And he is only getting deeper. So, before we could kick back and roll up, I followed Ryan while he gave Bakken a warm and loving reacharound on an ice cold Thursday night in January.
– It's great to be invited here by Shaq and Elias (red. PulpCPH ). The scene for house music in Copenhagen is rather small, so I love that they do theirs to keep Thursdays alive. Now I just wanna go and heat this place up, says Ryan before excusing himself to the DJ-booth to get plugged in and feel the mood of the room.
At midnight Bakken was empty – one could fear a crowdless night. Luckily one hour later the place is packed and Ryan is ready to get the dance floor even hotter. The heavy bassline and deep melodic earporn was sitting well with Bakken that evening. As I enjoyed the vinyl love workshop I also spend some time wondering how it is possible to play so hard, yet soft, smooth and butterlike?
Having now observed Ryan bending Bakken to his will and after two hours bringing it to a moist and loving climax, I can't wait to sit down and talk to this guy.
Welcome
My bike gets to rest and I let the friendly bus drivers of Copenhagen take me to Nørrebro. Toke lets me in and we get the hellos, hugs and other pleasantries over with. He sits me down and I can take in the old apartment in the heart of the old working class neighbourhood, Nørrebro. No doubt that here lives a DJ. About half of the small room is gear, speakers and vinyls. The wax decks are already on and I get to witness the meticulous moment of Toke sweeping the vinyl and putting the needle to wax.
The creamy sound of Gergor Yan's Jazz City fills the room as I add milk to the French pressed beans. I learn that Ryan has held residencies in most of Copenhagen during his ten year long love story with sample based disco and funk house; Jolene and the legendary but also long lost Dunkel while starting out. Today he brings his Lovestomp sound to work at Culture Box and voluntary project at Reffen 209.
Toke passes me some Cherry Pie but leaves the chocolate cake in the box. Having now had a taste of pie, it's time to start talking. So, I wondered how the former drummer got introduced to electronic music.
At first there was punk
The first introduction Ryan had to house music was actually a mistake. In his late preteen years the interest in punk led him to the local library looking for CDs. Not knowing Daft Punk he ended up bringing Homework back to his room. Pressing play on that album is a memory still with him today.
– I remember putting on the CD and first being a bit surprised since I had never knew that music could be like this before. My brain just melted and I fell in love. Homework got a lot of spins before I had to return it. After this I could not loan it again since there was just the one copy in the small library in Rudkøbing on Langeland. Time went by and slowly I forgot about it. Years later, my friend played the Discovery album to me and I got transported right back to my childhood room. I immediately fell right back in love with Daft Punk and electronic music. It is quite insane the ride that music can send your brain on, says Ryan before flipping the record. The light and mellow mood of Gregor Yan's b-side matches the feeling of the room very well as Ryan reminisce about good old house times.
Most house connoisseurs have the one moment where a set completely melted their frontal cortex. Has this happened to Ryan too?
– I have been mesmerized and blown away several times, both here in Copenhagen and abroad. If I am to mention one it has to be Roger Sanchez when he came by Forum in 2009. One of the big screens showed his mixer and four turntables through out the set. Watching him control four decks and never missing a beat was pure DJ-nerd porn. I did dance at the show but the main focus was on the finger work, laughs Ryan.
Following Laid Back's advise on the job
When talking about house music and Cherry Pie making the room smell like Seth Rogan's travel pillow it feels only natural to ask about this DJ's attitude towards the substances that some people ingest for a night out.
– I don't mind it too much in this environment. You should be able to decide what you do with your own body providing that you are not an asshole in the process. I hope that we as a society can get to a place where we can talk about this subject eye-to-eye. That being said, I like to keep a clear mind when I go into the DJ booth. I owe it to people that come out to be as sharp as can be, says Ryan.
The conversation moved deeper into the issues regarding the less legal sides of pharmaceuticals. I'll save you the part where we fold tinfoil hats and scream at the moon and just assume that you know where both Ryan and I stand.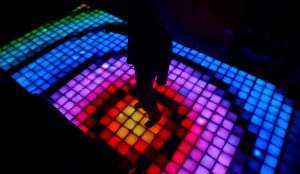 That anonymous LP
In my opinion, the few hundred people following Ryan online is not representing the talent this guy actually possesses. Listen to Why so… Crimson?, and tell me that you disagree! But as I found out, there could be a reason for the lack of recognition. Ryan and Theo (red. Paxton Fettel ) put out an anonymous white label LP. They got 500 copies printed but that was just the start.
– I remember feeling good about the release but I still got confused when Theo called me after five days to tell me that we were out of vinyls. At first I thought he was pulling my leg but no. So, naturally we ordered 500 more. Same thing happened within a week. So, we kept printing the vinyl and ended up selling 5000 copies. I still don't quite know how that happened but it felt really good when other DJs found out that we were behind this one, says Ryan.
I had to ask if he regrets not taking credit for his most sold work till this day?
– Yes and no. It would have been nice to have been able to attend to the hype the first of our four LPs in this project series got, but it also feels really good to put something out there and see it grow organically. Also it feels good to succeed with friends no matter the glory, says Ryan.
If you wanna learn more about Ryan and his mentor N'Djinn listen to the CPH DEEP podcast.
Last question
I glance at my wrist and my watch is trying to convince me that a few hours has actually passed. Being very full of Cherry Pie, I definitely need a slice of chocolate cake. Time to turn off my recorder but before doing so, I ask Ryan for his favorite music for times like these.
– That is a hard question since it also depends on the mood of the day, but some of my all time favorites are Habemus Paname , Soundstream and almost anything from Voyage Recordings . Oh yeah, and Crackazat is a sure winner any time, says Ryan as he puts him on.
I hit the red button and put my phone away. Details from here on out are a bit fuzzy but I did get fed crisp, vinyls, pie, good stories and coffee before getting my coat and asking one final question.
Where can I get the best falafel around here?
BY: MARTIN ESKESEN