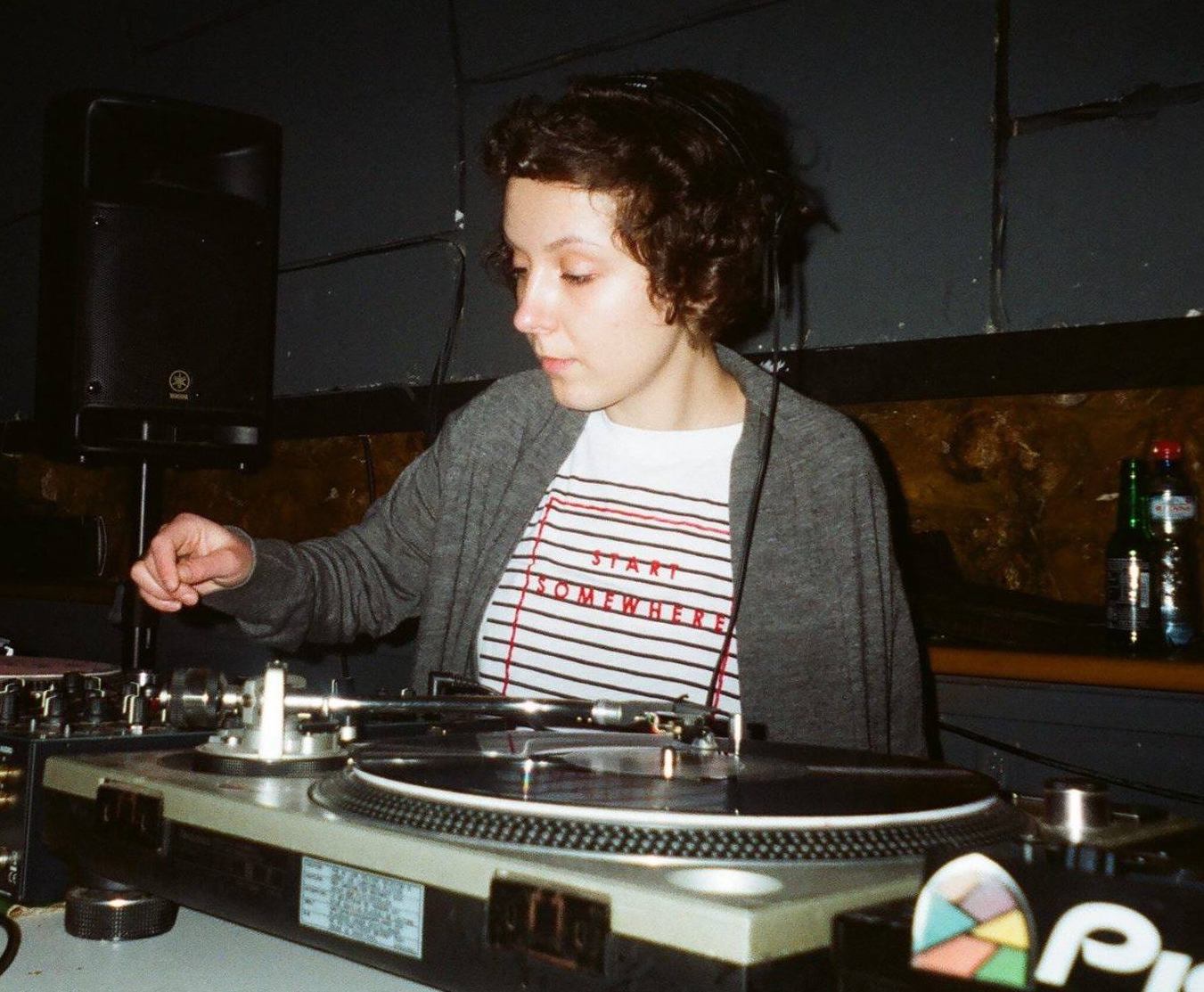 Tight Cherry – Journeys through space and time
I met Mioara Mihai, aka Tight Cherry, on a video call at the tail end of Copenhagen's second lockdown. Sunlight streams through her apartment window and illuminates a shelf full of plants behind her.


– I'm a plant person. But I've been doing that for a few years now. So now I got into growing mushrooms a little bit. I've been experimenting with that, Mioara says.


Not the psychedelic kind, she assures me. Mainly Shiitake. Of course.


– I grow them for the fun of it. Just to see how they grow. Because I think I learned a lot about life from plants. Just seeing them grow and how they behave, and how the outside environment affects them, she explains.


First love

Before the pandemic hit, you might have seen Mioara on the decks at Culture Box, Ved Siden Af or Jolene, to name but a few. But when she started DJing 8 or 9 years ago as a student in her native Romania, it was a different story.


– I couldn't afford to buy records. We were burning CDs and bringing them to afterparties, recalls Mioara.


After a while, she began putting on nights at the tiny bar she worked at, which soon began to draw a big crowd.


– My boss wanted the concept of the bar to be like very low music, so people could talk and hear themselves. I was in charge of the very slow playlist, but you know, when people start drinking they want to move. So it quickly went from his concept to these crazy parties that were competing with huge venues around Bucharest, says Mioara.


She later moved to Cluj Napoca for one reason: She fell in love with a small club there.


– [Gazette] was like a small place up on a hill, close to the city center with an awesome view. And yeah, it's just the greatest place. It was such an inspiration. All the people there, all the DJ's that I played with, all the guests we had. It was crazy. We had many international guests like Jane Fitz, Laurine (Slow Life), Varhat, San Proper, Voiski, Steven Tang, to name a few, but the lineups were mostly powered by the local music artists, remembers Mioara.


Come play for us


Her move to Copenhagen in 2017 was the start of another adventure. She played her first proper gig at the now legendary Et Andet Sted not long after her move – after meeting one of the organizers in the chillout area.


– I started talking with this guy and I mentioned that I play music. And he said, yeah, well I run this place. Come by on Tuesday and play some music for us. And I was like, what? This is crazy. So of course on Tuesday I was there, getting my record bag, and I played for like three hours for the guys. And then I got booked for my first gig there for their two year anniversary, Mioara reveals.


As for her new home city, the main drawback seems to be carrying her record collection from 4th floor to 4th floor each time she moves.


– I like the diversity here, that such a small city can host a wide range of music genres and party crews. And I don't know if there are cities with more record shops than in Copenhagen, says Mioara.


Asked about her favourite spots for buying new music, she tells me she can often be found in Proton Records, 313 Vinyl Collective, Mint Records, and Palmspree – because of the jazz selection and the books.


Cherry Picking

Mioara is best known for her eclectic vinyl-only sets (although she also plays digital), which she adapts based on her surroundings and her mood.


– I try to think about where I'm playing, who else is playing, what time I'm playing, the location. I try to do a little imagination exercise and I think about it according to who else is there, explains Mioara and continues:


– When I was first booked for the Gadagung night at Jolene, I was nervous about doing a techno night. Normally people play harder there, but I did my own take on it. And it kinda gave me the confidence that I can play techno for a crowd and it doesn't have to be hard, fast, Copenhagen techno. There's different kinds of music and that's the fun of it – because when you go out and play, you just do your take. And if people like it, it's very satisfying.


Right now she tells me she's on an acid phase, more of a nineties vibe, bleep house. But for a while during lockdown, she went deep into ambient. Her hour-long radio show Music For Astral Travel was broadcast weekly over lockdown. Taking inspiration from nights like God Goes Deep, she describes it as an introspective journey and a high-frequency sound bath.
Her new show for Bolsje Radio, aptly named Cherry Picking, will be a great opportunity to get back into playing some dance music again. The concept is simple: Each episode will feature a new guest, and they will play records and talk about them.
– Cherry Picking is going to be about two people sharing music, she says.
Tight what?
By now, you might be wondering where the name Tight Cherry comes from.
– People might think it's sexual. And it is. But if people bring on the sexual side, I'm going to call them perverts, laughs Mioara.
The real story is a lot more innocent.
– I'm a 90s child. So in the 2000s when the internet came, everybody had aliases online. We all had a weird name. Not your own, you had an alter ego. I don't really think about the sexual side of it. It's because I'm cool and I like cherries, she says.
Stranded at sea
This summer, Mioara has got her sights set on KUNE festival, where she is billed to play on both the Space and Astral Travel stages. The 72-hour music and cultural event will (hopefully) take place on Ungdomsøen, the island fortress, at the end of July.
– KUNE Festival is the highlight of my summer. It was such a great atmosphere last time and such great vibes, that three nights in a row after I came back from the festival I had dreams that I was still there, Mioara recalls.
If the stars align and the festival is allowed to go ahead, her number one recommendation for the weekend would be… taking the ferry. For the livestream last year, she ended up stranded in the middle of the Øresund after making the trip with a random guy who had a boat.
– The battery of his boat stopped in the middle of the sea and he didn't have any paddles. So we took out the boards from the boat floor and started paddling with them. It was getting dark, and the sea was getting pretty restless and we're like, what the fuck? My records were wet. We had no phone coverage. No walkie-talkies or means of communication. We were stranded. Lucky for us, there were three handsome Danish men on a speedboat. They came and asked us like, what are you doing? And they towed us to the island, and saved our lives. So yeah I strongly advise people to take legit boats, she says.
Brave new world
It's nice, but strange, to reminisce about festivals, when the last one was so long ago it feels like a distant, kaleidoscopic dream. But, with a more open Denmark on the horizon, Mioara is optimistic that we'll see a return to better days:
– I would like to leave a positive message for people that things are gonna be back on again. Probably not like before, but I'm sure. All this suppressed energy, I think it will come out in good ways. Like all this suppressed creativity I think will come out very positively in the end, for sure.
WORDS BY MAY NEWLAND – PHOTOS BY MADALINA CHILICI / BETÜL BAS / MIOARA MIHAI