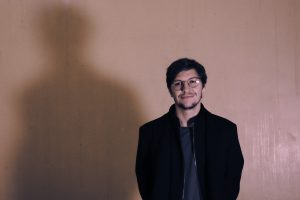 "First time I meet house,
it was a moonlit night.
It was destined to be,
it was love at first sight.
First time I meet house,
I was lost in space.
See I came here alone,
but she made me feel right at home."
These are some of the lyrics from the 90 minutes of hypnotechno brought to me by a secret guest straight from Planet Uterus. Everyone, who has been kissed by the all mighty madam house and came back for seconds over again, has a crystal clear memory. The first moment when a DJ picks your mind up from the dance floor and lets it transcend through time and space like you are Rick fucking Sanchez. Nothing matters but the music. You remember that, right?
To me, that happened years back at the legendary, now closed, club KB18 in the Meatpacking District in Copenhagen. That dark sweaty night Jonas Saalbach popped my man-cherry so hard, that it echoed through the city. He made love to my ears, penetrated my brain and made me dance to his will. That night was my first of many encounters with the enigma they call House.
Flash forward to grey December 2018 and I thank Xenu to be alive. Over the course of a few days I got to meet Jonas twice and again dance to the DJ who defiled my innocence permanently. Here is what came out of my Berlin sessions with the hardworking producer, label owner, live act and DJ.
Integrity
As you might have guessed from the above mentioned – I was a fan of Jonas even before my editor handed me his contact. I opened my rarely used WhatsApp and texted Jonas only to regret it the next second. As professional and well-meaning as a message can be, it can get overshadowed when your profile looks like this: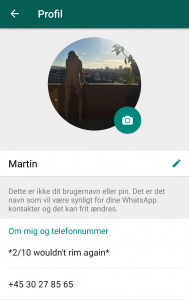 Luckily a Berlin house veteran has seen way worse in his days, so I could end that conversation with an interview scheduled and oddly enough, my journalistic integrity somewhat intact.
Now, let's go…
The first time, I actually meet Jonas, is at Schwelgerei. A cozy cocktail bar in Kreuzberg. Here he has dropped in to listen to his friend Tschoris' vinyl set, before setting the course to Anomalie where he would play his own set later that night.
– I love to get out and hear my friends play live when I can. There is always something new to learn when watching friends play. Also it's a great excuse to hang out with them, says Jonas before ordering a gin tonic for the still sober reporter.
– I have just put the finishing touches on my album and I can't wait to play some of it tonight. It's always so exciting to see if the crowd wants to dance to it, says Jonas and continues.
Push the tempo
As Jonas talks and the lazy melodic house beats goes from wax to needle and on to the speakers, I get the impression of an ambitious and very busy guy. 2019's track record counts 74 shows, the new album Reminiscence, getting his newly co-founded label Radikon of the ground plus several remixes, guest mixes and helping out colleagues. To put it in Berlin terms: Jonas is busy as Sven rejecting tourists at Berghain – and he wants more.
For now, it is our time to grab a cab and get our asses to Anomalie for the 3am gig. I thank Tschoris for the tunes and watch as the DJs hug for good night. Before I can really feel the cold night air in my lungs, we are in a taxi heading for the main event.
Reminiscence
The original city that never sleeps flies by the windows. One could fixate on the concrete jungle where the beautiful second coming of Weimar is still in full effect. But since we are already heading for the dark rooms, my focus is on Jonas. Learning the story of a guy who in his teens produced hip hop beats and spray painted a few walls before he fell in love with house. Finishing his Audio Engineering degree in Frankfurt am Main before moving to the promised land at 22. Here the first three years had steady elements of producing music, managing the roaring tornado of playing the clubs and diving into what the dark underworld of Berlin had to offer.
An underworld that has thought many lessons but one really sticks to this day. It is just the best to work with friends. Which could explain why his newly started label, Radikon, consists only of long time friends.
– 95% of the people I work with are close friends. I really like when there is a brotherly vibe to projects. It's a powerful feeling if you are able to succeed with your friends. And with the amount of traveling that this scene requires, it is just a lot more fun to do it together. With Radikon, I hope we can build a solid foundation keep doing what we love. Producing music and bringing our brand of house to the dancefloors – together, says Jonas.
The conversation moves back to the current affairs as the taxi stops. Jonas pays the driver and we enter Anomalie.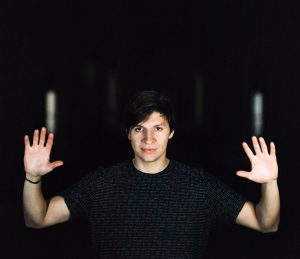 Back to the roots
Radikon is a word borrowed from the world language Esperanto and it translates into roots. The name could lead one to believe that it comes from Jonas' desire to nurture the foundation of his base and sound. Working with friends and playing the dark clubs, from where the culture springs. Whatever the meaning might be, the answer is found from the more commonly known world language, music. At least that is how I feel on this night when Jonas turns the half empty two-room club into his party.
I let a Fritz orange and chronic be my tonic for the night as I float away in the hard yet melodic and deep sounds filling Anomalie. I observe as Jonas picks up the crowd and takes them for a ride on his sonic surfboard. Both the mellow melodic waters and the foaming, high powered waves is to the liking in the magnificent sea of ravers. Each enjoying the music in their own way. Jonas smiles as he blasts Yarrow from his new album Reminiscence. His energy seems to be absorbed and topped by the crowd.
– I was really looking forward to playing this one. And it was so nice to see how well it went down, says Jonas with a laugh after the track, just before turning his full attention to the decks again.
I observe from the back of the booth as I dance the hours away. Completely forgetting about the concept of time. Before I know the music is turned down and Jonas pays respect to the dancers before hitting them with one final tidal wave.
Golden Gate
After his almost three hour set, I get to see a completely relaxed man. Jonas has finally a little bit of time to breathe. We get a gin tonic in our hands from the promoters and I turn off the part of my brain that is here to observe. I spare you of the details since I imagine that you know what may go on from 6am and onwards. The company of Jonas and his friends leaves no doubt that kind strangers do exist.
Jonas hugs me good morning and disappears into a cab with his girlfriend. My sleep deprived brain finds the suggestion of the beautiful nuclear wasteland that is Golden Gate to be a phenomenal idea. The playful tech house keeps me going until I look like I gained 10 winters in a weekend.
Taxi! Good afternoon and good night Berlin!

A powerhouse at Funkhaus
The herbal tea might not have been brewed by Miraculix on this Tuesday afternoon but it is still the right call to push the last of the weekend out of my system. Inside an intimate studio on the third floor of the old DDR broadcasting headquarters Jonas has set up his work heaven. Despite the size of the legendary behemoth Funkhaus it looks like Jonas has collected more data power on 15 square meters then the DDR ever had on their hands. Here he is way out of city center and can dive into his work without too many distractions.
– It has actually been quite the struggle to get this studio in place. After just finishing up my studio on the floor above, I was told I had to move. Luckily there was another opening in the house, but building a studio twice in a year cost me a lot of time away for producing. Even when you have friends helping every step of the way. But I feel like I am starting to catch up, says Jonas and puts on Silent North from his new album, Reminiscence.
The idea was formed in the spring but was fully grown in the end of 2018. An album is acknowledging the darker, deeper sides of this reality with its playful melancholic expression, but also, it gives a promise of lighter times ahead. An album released on Einmusika Recordings where the all mighty Samuel has added his two cents on the album during listening sessions in the different stages of production. An album that goes deep.
I close my eyes for a brief second when Jonas puts on New Dawn. Immediately, the uplifting melodic vibes transport my mind right back to Anomalie.
Finding a voice
Thinking back on the after hours on the Sunday morning Jonas notes that it is getting to be a more rare thing for him.
– The nightlife have always drawn me and there is always a good party to find, but even one night out after a gig steals simply too much of my energy. So, now I do way more exercise than nightlife. I do yoga, run and bouldering as much as I can. I get energy to work when I also take care of my body. It is actually also how I found the voice of the first single for Reminiscence. I knew my bouldering buddy Chris was a singer, but he never really wanted to sing in front of me. I finally convinced him and it didn't take me long to realise that I wanted to put music to that voice, says Jonas before going deeper into the technical perspectives of getting his sound to work with Chris' voice.
I listen, but for us non-DJs, it is hard to keep up with the lingo. Even though I don't understand much, it is a pleasure to listen to a true nerd of his field. The energy coming from Jonas as he tells the process of producing Twisted Shapes with Chris makes the room come alive. I wonder if producing music or playing it live is what keeps Jonas going.
Studio or booth?
– It's not one or the other. For me it comes full circle. I work in the studio so I can play my music live. I play live and DJ sets to see if studio time is put to good use. And of course to pay the bills. But I love playing my live sets a bit more than DJing. It's a very special feeling to put together a set only of my own music and really put myself out there. When that gets received well it is just – total bliss, smiles Jonas.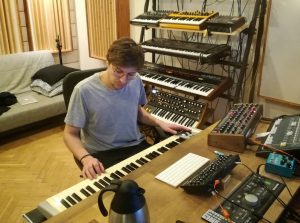 So, what has been the some of the best experiences playing live for Jonas?
– Berlin is home and just one of the best places I know. Crowds and clubs are just good here. Some of the most memorable parties have been in Beirut. I have played there ten times and every time it has been completely crazy. My favorite experience, if i had to pick one time, must be Fusion 2015. I played in the afternoon, the sun was shining and there was an option to start very low and really build momentum throughout the set. I was able to built on the chilled lazy mood of the sunshine heating up the festival, but ever so slowly I got people dancing and it completely exploded in the end. It can be really nice to take the music out of the regular dark clubs some time. It creates a completely different energy, says Jonas as he starts putting the final touches on Tuesday's only project, fine tuning a remix for Claws SG.
Looking ahead
Two hours of studio time has come and gone, and it is time for us to leave Funkhaus behind. An area that feels like it could house a Victorian picnic by day but as the darkness dropkicks the sun out of the sky, the industrial area can seem intimidating to just about anyone.
We move away from the horror like buildings and closer to a tram-stop. As we stand there in the chilly evening, my mind tries to warm me up by sending me to warmer places ahead. What is warming up Jonas when looking forward
– For now I'm looking forward to my two shows in Goa, followed by a few days off with my girlfriend. Looking even more ahead, I can't wait to put in a lot of time developing and nurturing Radikon. Most of all, my fingers are itching to play Reminiscence live, says Jonas.
The chit chat continues as we change tram lines and reach the outskirts of Kreutzberg. Here is his stop. A warm hug goodbye and Jonas steps off, gone into the concrete forest. I continue a few more stops before seeing my downfall. I decide that the herbal tea might work better on my hangover if accompanied by genuine quality from the noble German brewmeisters. The first brown watering hole will do just fine.
Proost Berlin und bis bald!
BY MARTIN ESKESEN
Listen to the Reminiscence here: